Inspiring Young Interpreters
This January, ten youths joined the West Coast N.E.S.T.'s Interpretation Skills workshop at Long Beach Lodge Resort. With two local expert Interpreters, Silva Johansson, and Carl Sieber, leading this day-long event, each youth had the opportunity to learn, but also build their confidence to use their skills in front of their peers through engaging activities.
Nicole Gerbrandt, the Director of Education for the West Coast N.E.S.T., a program of the Clayoquot Biosphere Trust, has been working on putting this workshop together with Silva and Carl, for several years. The goal of this workshop was to give participants an idea of what the field of Interpretation could look like as a career and give them tips on how to reach their future goals. This course also aimed to increase the number of local youths that receive tourism education and training in the area to help prepare them for future employment as Interpreters on the West Coast.
By providing youth with training and showing them local opportunities, this initiative is helping combat the current regional housing and staffing issues. Youth living in the area already have an advantage when it comes to landing Interpretation jobs locally, since employers do not have to provide them with housing, and they already have incredible knowledge of their home region. Employing local youth benefit local organizations and businesses, helps alleviate the demand for housing, and offers wonderful job opportunities to young professionals.
Interpretation as a Career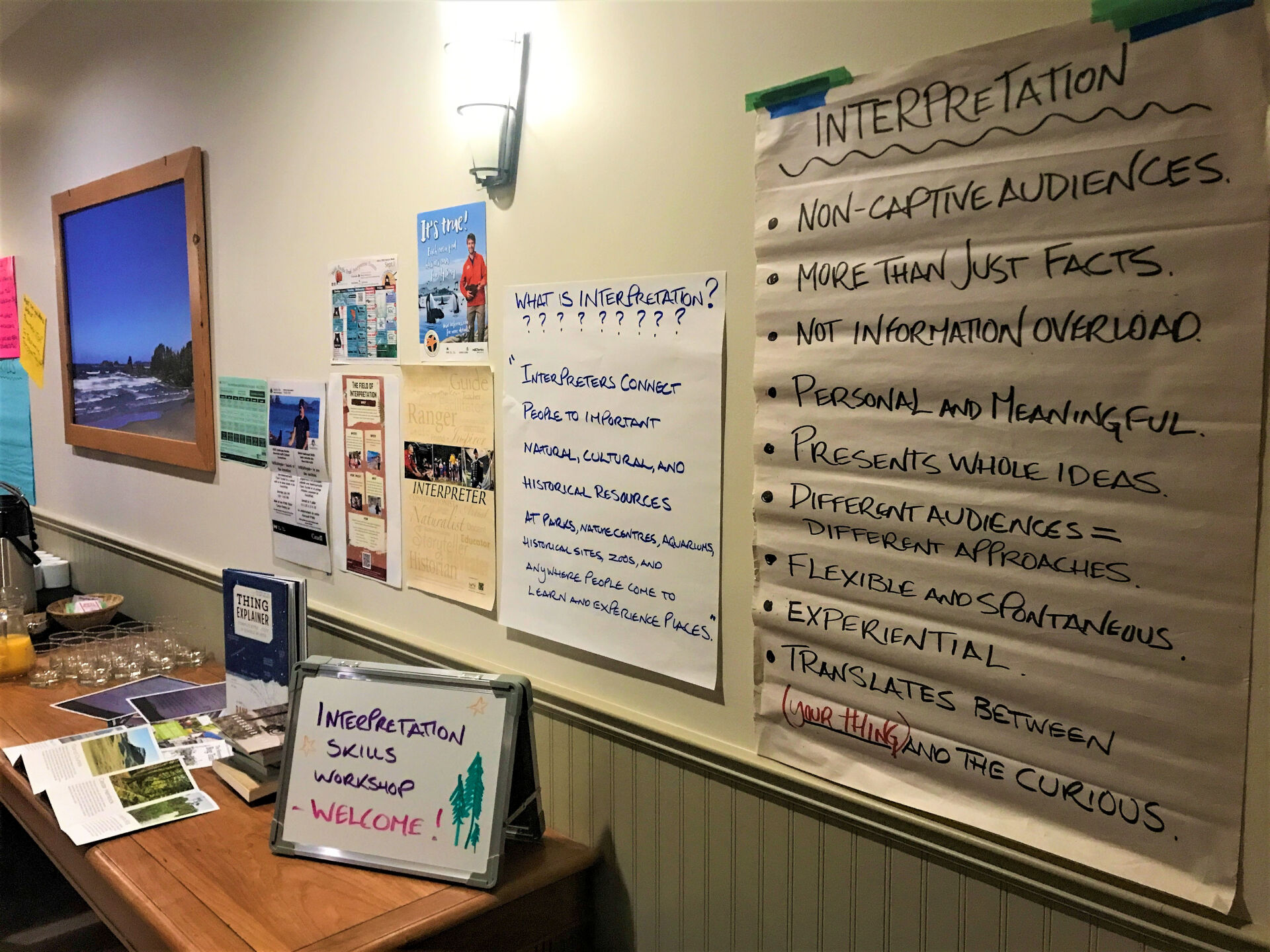 But what is Interpretation exactly? Many of the youth had that same question during the workshop and Silva and Carl were able to explain the fundamentals of this field, but also emphasize how diverse this career path can be. However, one way to describe the job of an Interpreter is that they connect people to different subjects and places in a way that enhances their knowledge of an area or topic. Pretty neat right?
For youth who love finding themselves outdoors, thrive in environments where they get to connect with others, and have a natural interest in subjects such as history, ecology, and culture, this might just be their dream career! However, what if they love all these things but are introverted? A common misconception is that Interpretation is only for extroverted individuals but that is far from true. During the workshop, youths learned firsthand from Carl who considers himself a "professional extrovert" yet is introverted by nature that no matter your personality type, Interpretation can be a truly fulfilling career.
Interpretation Skills Workshop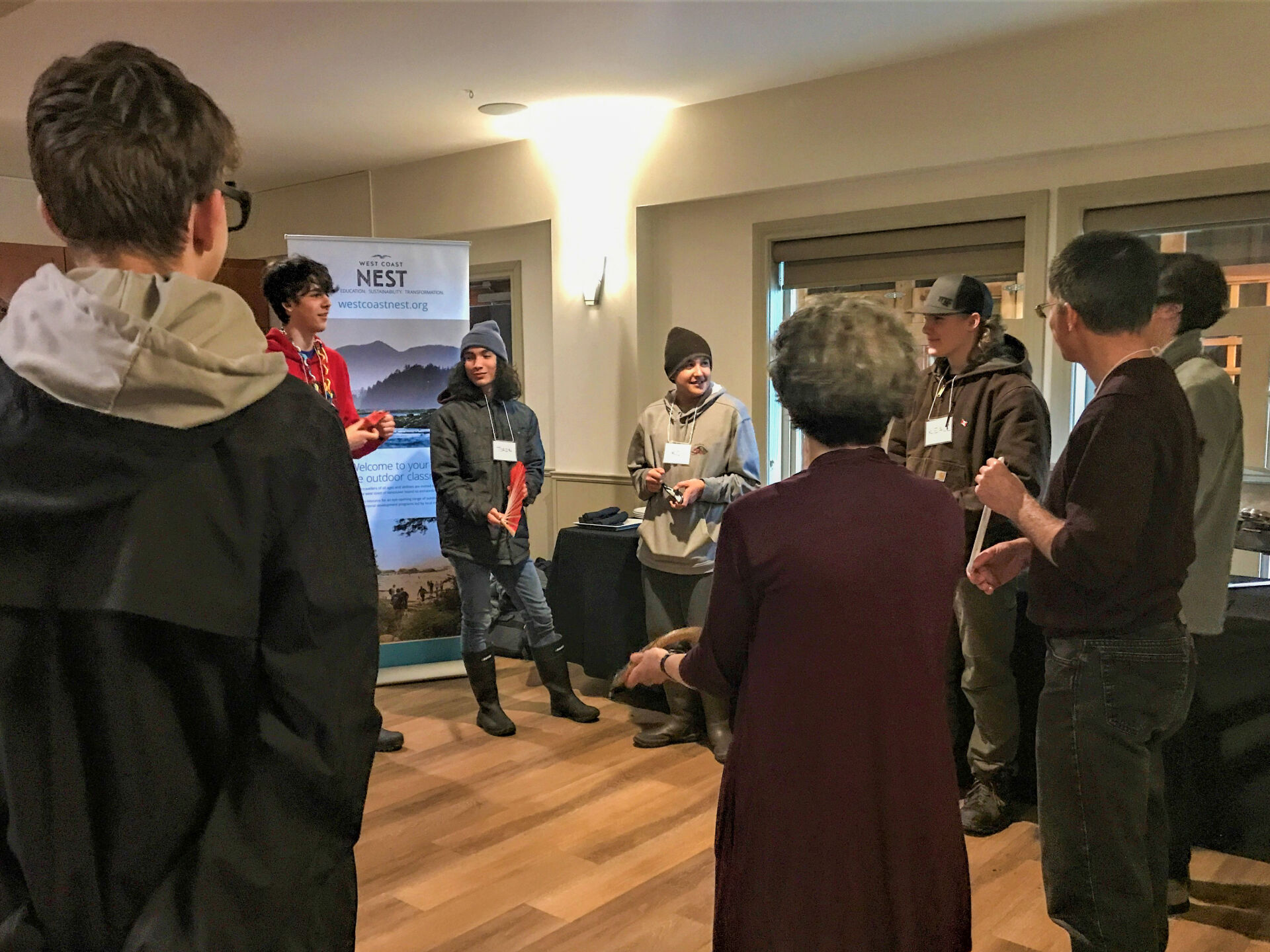 "There wasn't a moment I didn't truly like, all of it was new and useful information."
– Torin, Grade 9 student
In the first part of the workshop, Silva and Carl made the participants feel at ease very quickly and demonstrated the different ways they use to engage with their audience by hooking people with a short introduction. Everyone in the room could sense their contagious enthusiasm. Then, each youth was able to work through different fun exercises, get creative, practice their skills, and were also given the tools to confidently introduce themselves while connecting people with topics they enjoy.
Participants learned that to make Interpretation work, three elements are required: content, passion, and skills. Carl and Silva allowed youth to observe many other talented Interpreters through engaging videos and invited them to write down their observations. Carl emphasized how being inspired by others can be a wonderful way to become better Interpreters themselves, by learning from them and adapting their techniques to their personal style.
In the second part of the workshop, Silva and Carl spent some time discussing the incredible employment and volunteer possibilities that youth could access here on the West Coast to start their career. They gave them tangible tips to prepare them for these opportunities by sharing what local hiring teams might be looking for on an application and how they can make themselves an even better candidate.
Going through a long list of organizations on the West Coast that need local talent, Carl and Silva showed the many avenues available for aspiring Interpreters to start their journey in their hometowns. Having said that, skilled Interpreters are needed in all types of organizations around the world, from local non-profits to NASA. Yes, Chris Hadfield is an Interpreter! However, even for youths that are not interested in this field, they illustrated how interpretation skills can be useful in many other professions.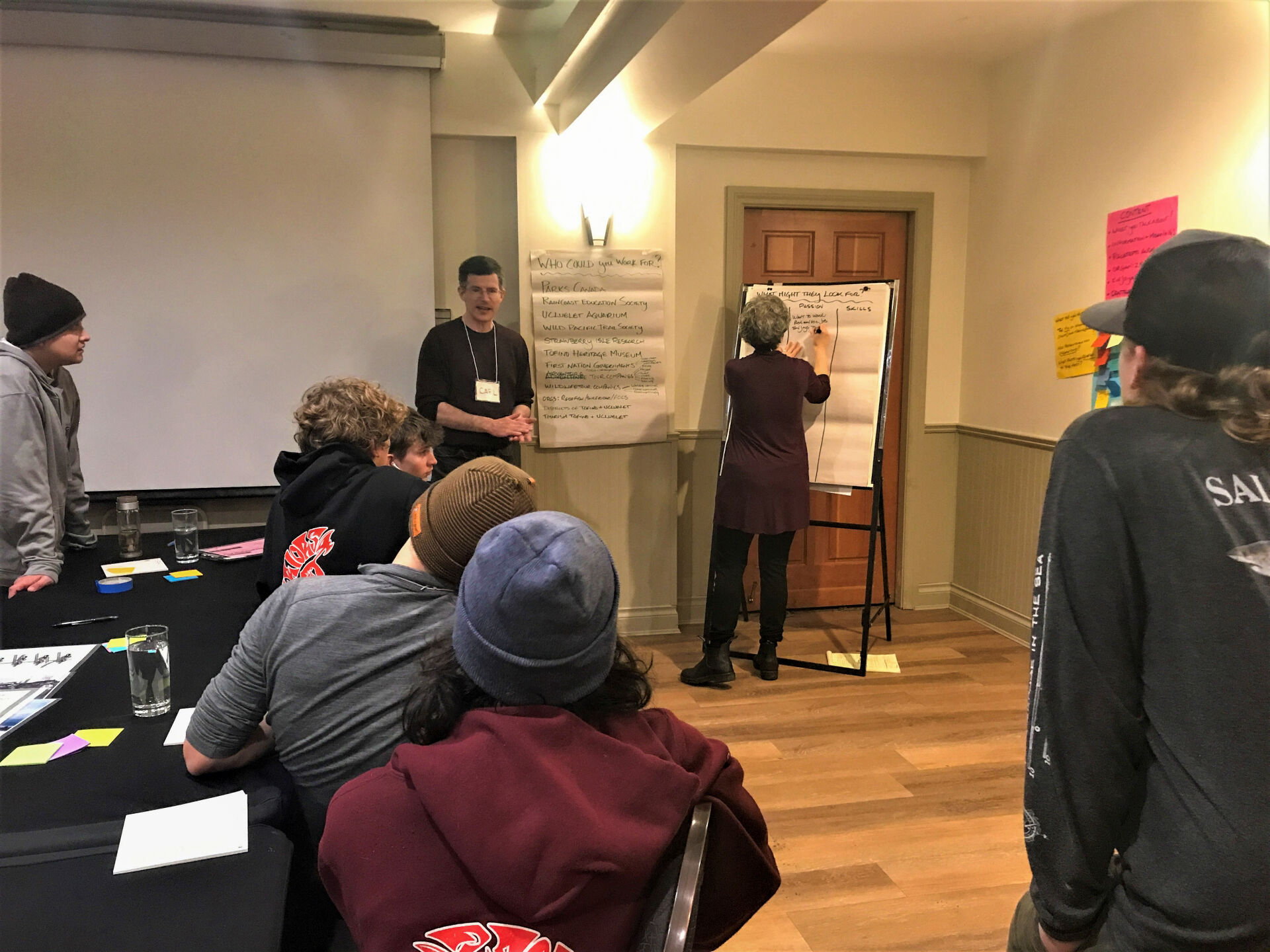 "I really enjoyed writing out the passion, context, and skills on sticky notes while watching the videos. As well as conversing about the local jobs. The games were really fun as well."
-Interpretation Skills Workshop Participant
This workshop was a great opportunity for youth to learn and test out their abilities with their peers while being supported by experienced mentors. By the end of the day, each participant acquired many tools to help them on their journey to either pursue this career or use their newly acquired knowledge in the occupation of their choice. To dive deeper,interested youth are encouraged to participate in future Interpretive Skills Workshops.
Thanks to the District of Tofino for making this workshop possible through their financial contribution, to Long Beach Lodge Resort for providing the space and planning delicious meals throughout the day to keep the youth energized, and to Carl Sieber, and Silva Johansson for sharing their knowledge and inspiring youth! Interested in other great learning opportunities? Make sure to take a look at our courses and events calendar and follow us on Facebook, Instagram, Tik Tok, Youtube & Twitter for regular updates on upcoming opportunities in the region. We hope you can join us!