Sustainable Art Workshop with Sea Woven
Here at the West Coast NEST, we think it's important to highlight and celebrate organizations and individuals who work towards the United Nations Sustainable Development Goals (SDGs). Local artist Kim Leckey (a.k.a. Sea Woven) is one such individual as her incredible artwork contributes to several of the goals and the targets associated with them.
Based out of Tofino and Ucluelet, Kim makes artwork using marine debris she's found discarded along the west coast beaches. Doing this, she contributes to Goal 12, Responsible Consumption and Production, and the target to "substantially reduce waste generation through prevention, reduction, recycling and reuses," (12.5)
Last week, Kim held a free workshop showing participants how to use upcycled marine debris to create bee-utiful works of art. The workshop was held as part of Kim's Salvaged Project, an official event in the Earth Endeavours series for BC Culture Days.
To kick off the celebration early, Kim encouraged participants of her workshop to come out for a Washed Up Wednesday Beach Clean with Surfrider Foundation Pacific Rim in partnership with Tourism Tofino. Tourists and locals alike joined forces to scour Chesterman Beach for waste and debris, returning with buckets and bags full!
Not only do beach cleans contribute to several SDGs, but they give participants the chance to slow down and actually look around when strolling along the beach. We know it's hard to take your eyes off the mesmerizing waves sometimes, but you never know what you might find when you take a look around—like a perfect sand dollar or an adorable sea star!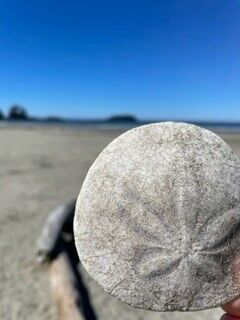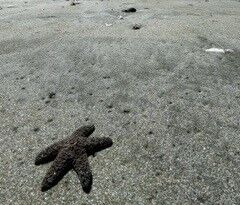 Beach cleaners found more than just debris on Chesterman!
Once the beach cleaners were done climbing up rocks and digging in sand, they returned to the Tourism Tofino tent. A seasoned pro when it comes to finding marine debris, Kim returned with a full bucket. Her finds included a collection of rubber hair ties and a tiny plastic blue shark.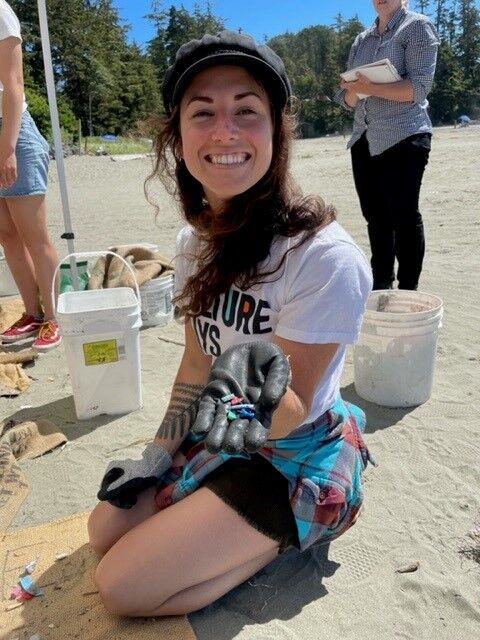 Kim Leckey is an expert at finding marine debris washed up on the beaches!
At the tent, Sophie from Surfrider taught the beach cleaners how to sort the debris, with bags laid out for rope, paper, glass and plastics.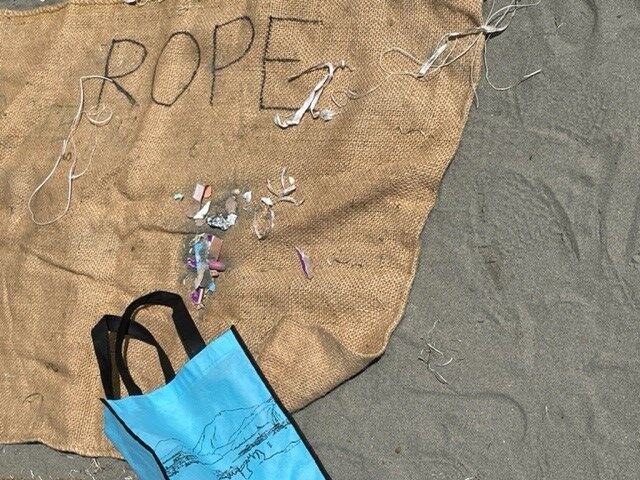 Surfrider Pacific Rim helped sort all the marine debris that was collected by the beach cleaners.
As it was being sorted, the debris was added to the Surfrider Foundation Canada project data on the Marine Debris Tracker App. Sophie explained that the point of recording the findings is to find ways to target the problem at a larger structural level so that solutions can be made to reduce marine debris before it even becomes marine debris.
By the end of the three-hour beach clean, Chesterman was left looking as debris-free as possible. So much so, that the final few beach cleaners had trouble finding debris to collect. But, not finding waste on the beach is definitely a good problem to have!
After sorting through the debris that was collected, Kim held a free workshop at Long Beach Resort to teach participants how to create bees made from old buoys. This was step two in The Salvaged Project.
Everyone from young kids to grown adults showed up for the workshop and immediately became busy worker bees.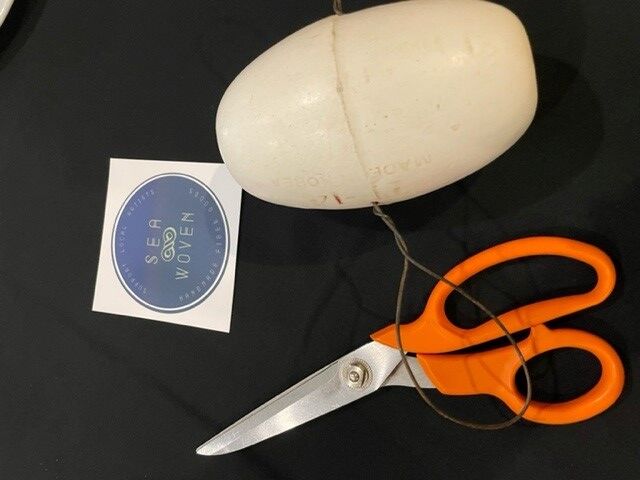 The beach cleaners got crafty making buoy bees with the marine debris they collected.
With a discarded buoy as the base, the first step was to create the bee's wings. First, the artists used wire to create the outline before wrapping them in netting and drilling them into the buoy for some breezy, flappable wings! There was definitely some trial-and-error involved here but everyone managed to make wings that were one-of-a-kind!
Then, the participants all paired up for help on creating the bee's stripes. They used yellow and blue rope, beginning carefully at the top of the buoy and wrapping them 'round and 'round until they reached the bottom of the bee.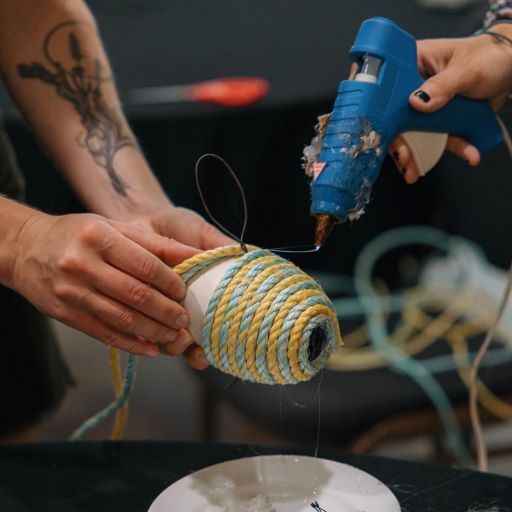 Teamwork was key for making the bees stripes! (Photo: sunsetamedia)
As they worked away, participants sipped on complimentary cocktails from Strait and Narrow, burned their thumbs on hot glue guns and made an un-bee-lievable amount of bee puns!
Once the bees were full of colour, it was time for eyes and stingers. Most of the artists used discarded old screws to drill bottle caps for some crazy bug eyes. Then, the artists used their imaginations to create some deadly stingers using plastic toys, hooks and even a fork!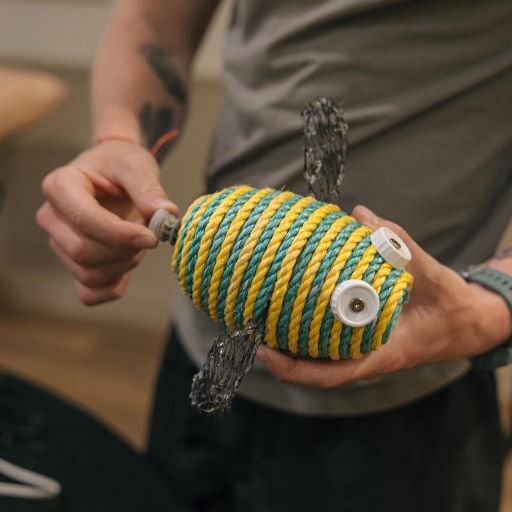 Participants used all kinds of original pieces of debris to create the bee's stingers (Photo: sunsetamedia)
Now professional bee-makers, the artists started duplicating them like worker bees on an assembly line. In the end, there was a whole swarm of unique looking bees!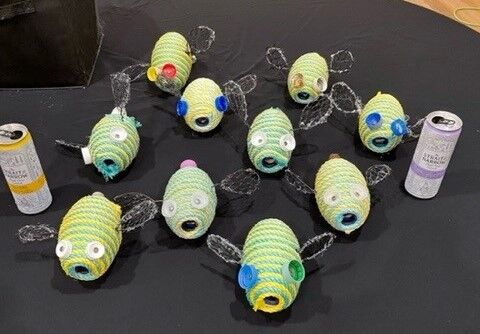 The beach cleaners made a whole swarm of unique and beautiful bees.
The final step in Kim's Salvaged Project will be using the bees in an art installation at Blackberry Cove health food store in Ucluelet.
Kim sets a great example for reaching the Sustainable Development Goals by using her talents and passions in a way that encourages recycling and upcycling.
That's why the NEST is so honoured to have her lead one of the workshops at the West Coast Fibre Art Retreat this November at Black Rock Resort in Ucluelet. Her workshop will offer participants the chance to make a macra-weave wall hanging using driftwood, cotton rope and roving!
Tickets are still on sale now with early-bird pricing until August 31st.