Celebrating Local Action for Sustainable Development!
From September 18th to 26th, millions of people around the world came together to celebrate the 5th Annual Global Week to ACT4SDGs. This week is a call to action for people worldwide to mobilize and create change to achieve the Sustainable Development Goals (SDGs) that were laid out by the United Nations in 2015. The SDGs are a roadmap for a more sustainable and equitable future for everyone. These global goals outline 17 interconnected challenges for world leaders and communities to work towards achieving this vision, including climate action, no poverty, reduced inequalities, sustainable cities, and many others.
In the Clayoquot Biosphere Region, individuals, organizations, businesses, and local governments are doing valuable work that aligns with many of the SDGs such as Quality Education, Climate Action, Life On Land, Life Below Water, and many others. From September 28th until October 16th, West Coast NEST invited local youth and adults to help us celebrate the ongoing work being done in our communities to advance the SDGs.
We asked local kids to submit a drawing of an action they can take to support one (or more) of the SDGs in the Clayoquot Biosphere Region and received drawings from over 25 local kids. The entries illustrated actions such as using less plastic, sharing bath time with siblings to reduce water consumption, upcycling marine debris into artwork, walking and biking more, and many more actions! The winners of our contest were Ryan Rosene, Priya Petch, and Maya Grimshire for their submissions' creativity and strong alignment with the SDGs. They were all awarded gift cards to Chocolate Tofino, as well as the participation prize which was awarded to all children who participated in the contest, consisting of a mini pumpkin and paints from Ultramarine Art Supply.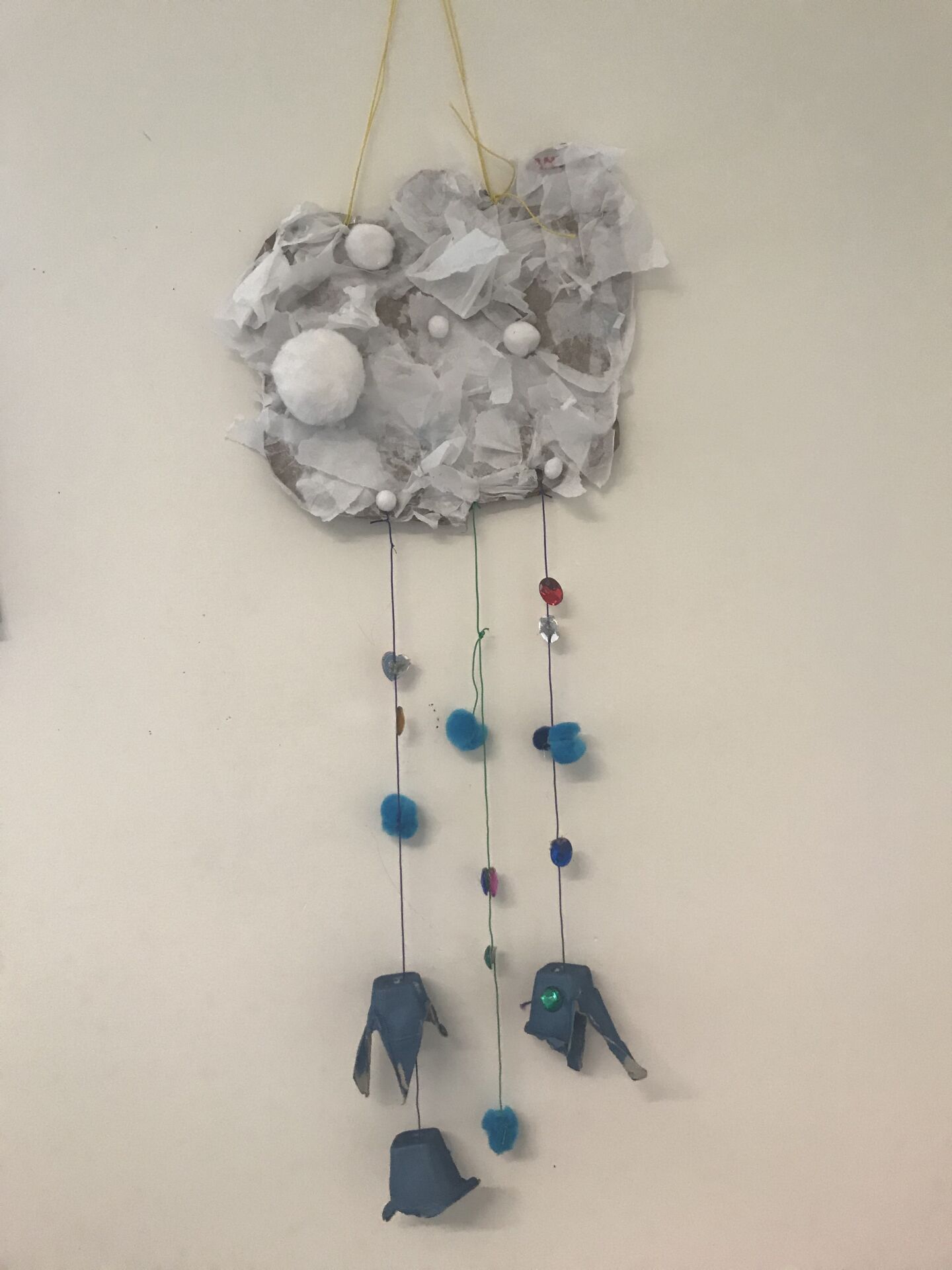 Ryan's multimedia artwork piece can be seen in the image above and depicts a raincloud with beautiful raindrops that she created out of recycled materials, aligning with Goal #12: Responsible Production and Consumption and Goal #6: Clean Water and Sanitation.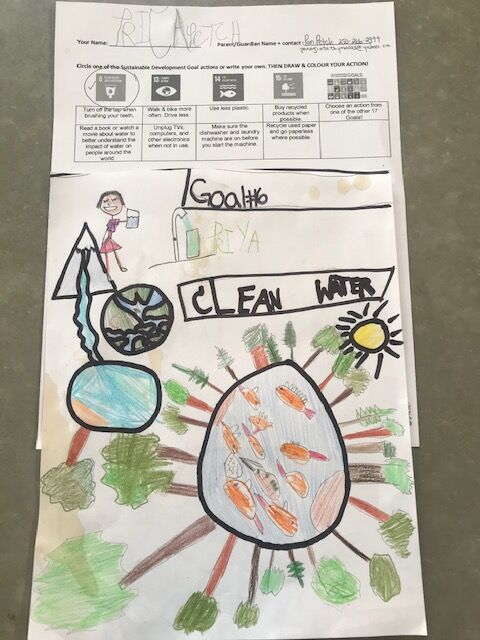 Priya's drawing also aligns with Goal #6: Clean Water and Sanitation and Goal #14: Life Below Water, demonstrating a young girl enjoying a glass of water from a mountain stream and a thriving school of fish in the world oceans.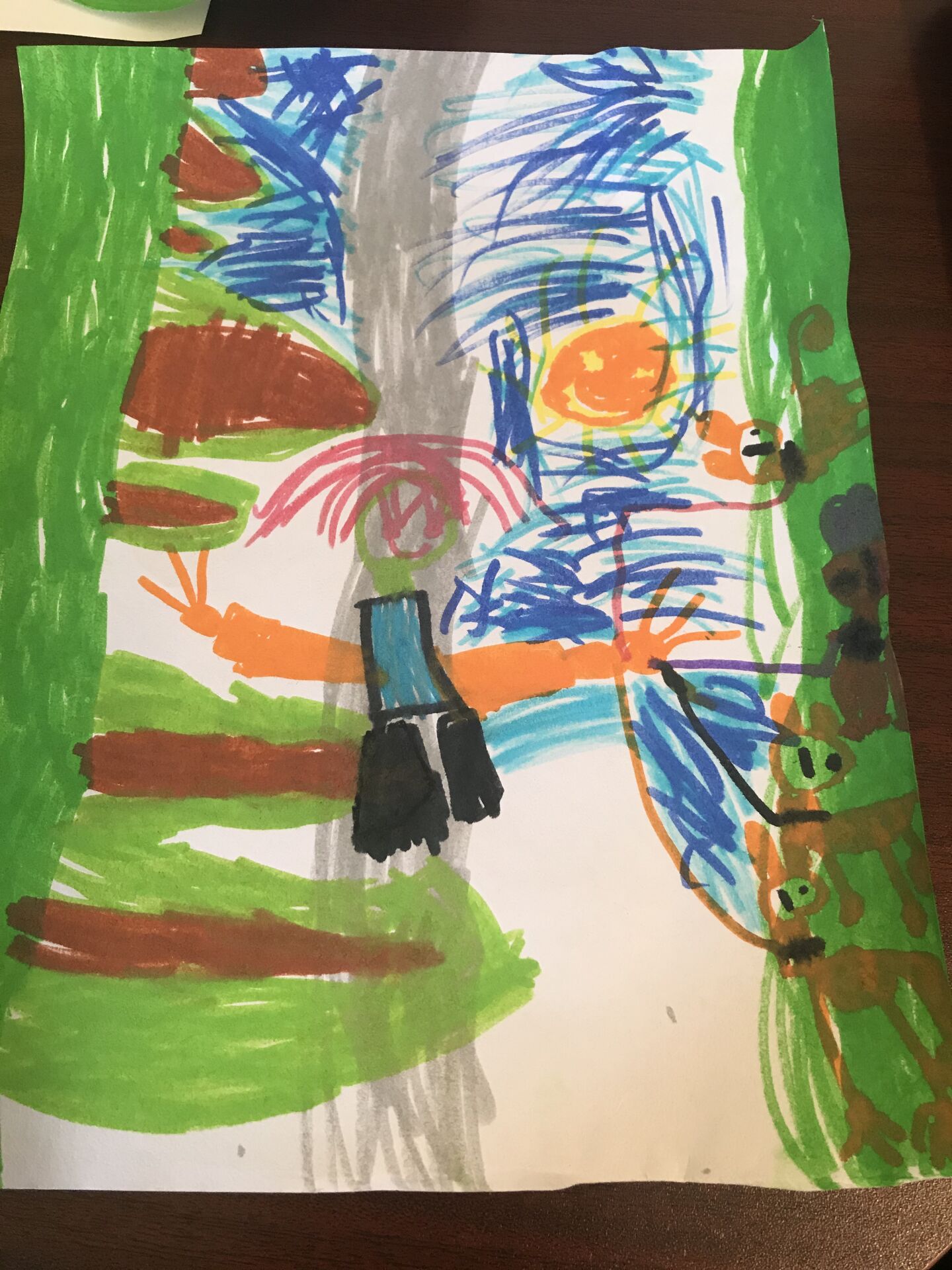 Lastly, Maya's action has been localized to the Clayoquot Biosphere Region, depicting Maya walking her dogs along the Wild Pacific Trail, aligning with Goal #3: Good Health and Wellbeing and Goal #13: Climate Action.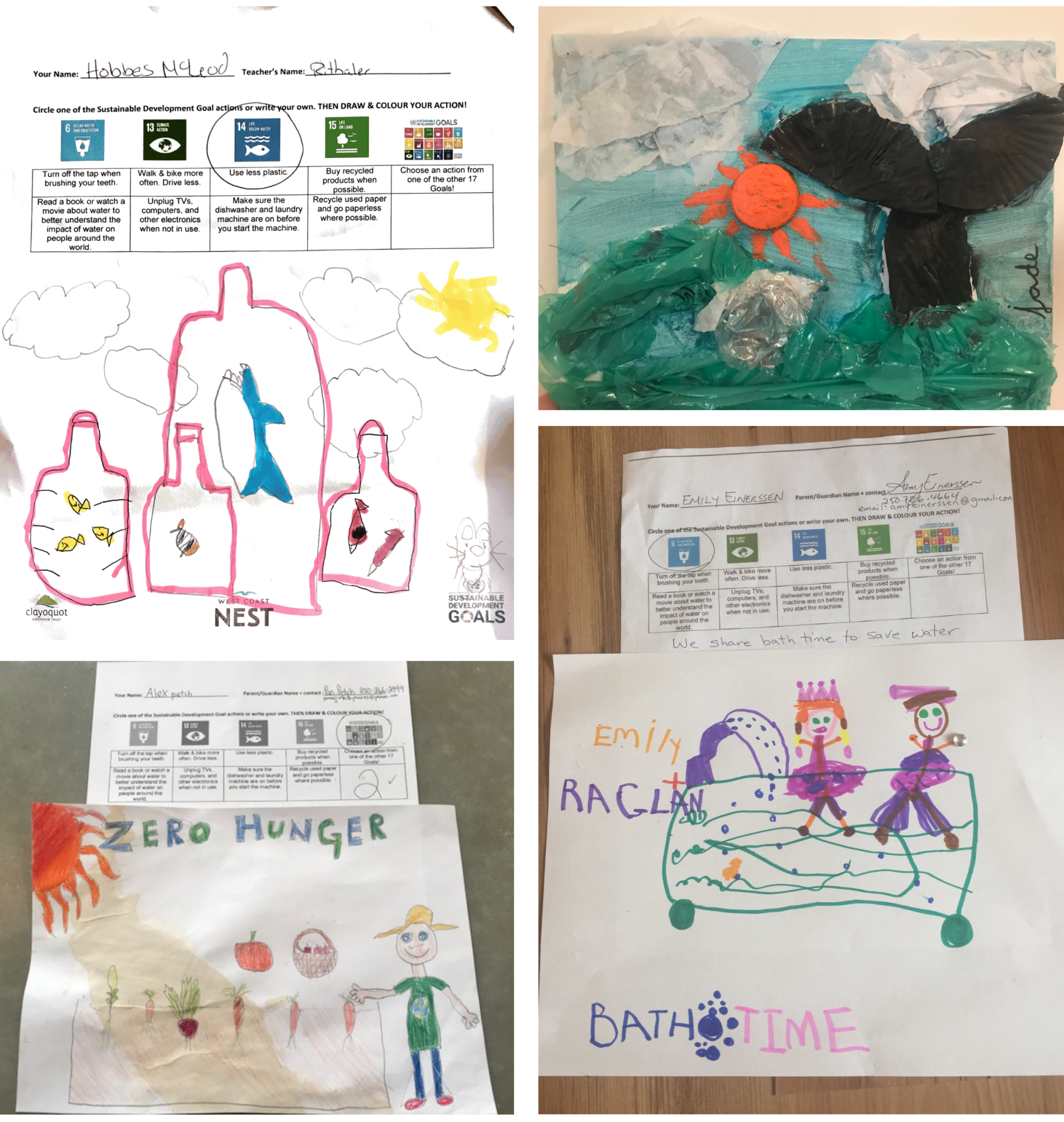 Some honourable mentions include Hobbes McLeod's drawing of fish and sharks in bottles to demonstrate his commitment to using less plastic, Jade Rosene's multimedia artwork piece that she created from recycled materials and beach treasures that shows a whale tail diving into the waves, Alex Petch's drawing of Zero Hunger, and Emily Einerssen's drawing of her and her brother sharing a bath to save water!
Local adults were invited to celebrate the work of our communities by participating in an SDG Photo Contest arranged by NEST which requested participants submit an image of an SDG in action in the Clayoquot Biosphere Region. Participants were requested that the images reflect actions located within the region to raise awareness that the SDGs are meant to be localized and place-based to reflect and better meet the needs of the specific community in which they are being implemented.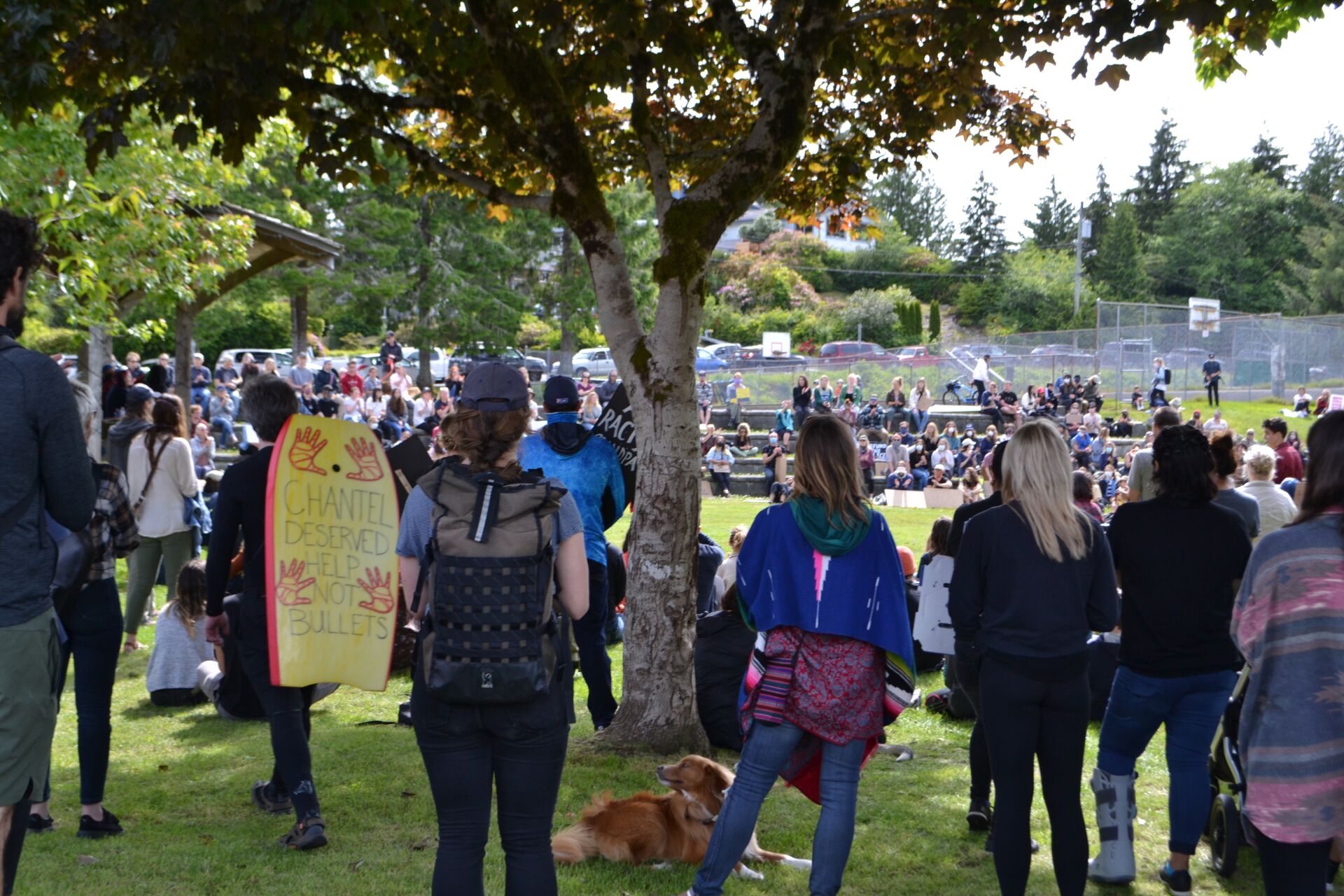 The winner of the SDG Photo Contest was Nora O'Malley, who submitted an image of a rally for Indigenous Lives and Black Lives Matter and Justice for Chantel Moore. The rally, which took place in Tofino, the traditional territory of Tla-o-qui-aht First Nations, aligns with Goal #10: Reduced Inequalities, Goal #3: Good Health and Wellbeing, Goal #16: Peace, Justice, and Strong Institutions, and Goal #5: Gender Equality. Nora's submission reflected the ongoing work of many local organizations, governments, and individuals to advance and stand up for human rights in the region, within Canada, and globally. Nora won a food box from Tofino Ucluelet Culinary Guild, macarons from Ouest Artisan Patisserie, and beverages from Tofino Brewing Company.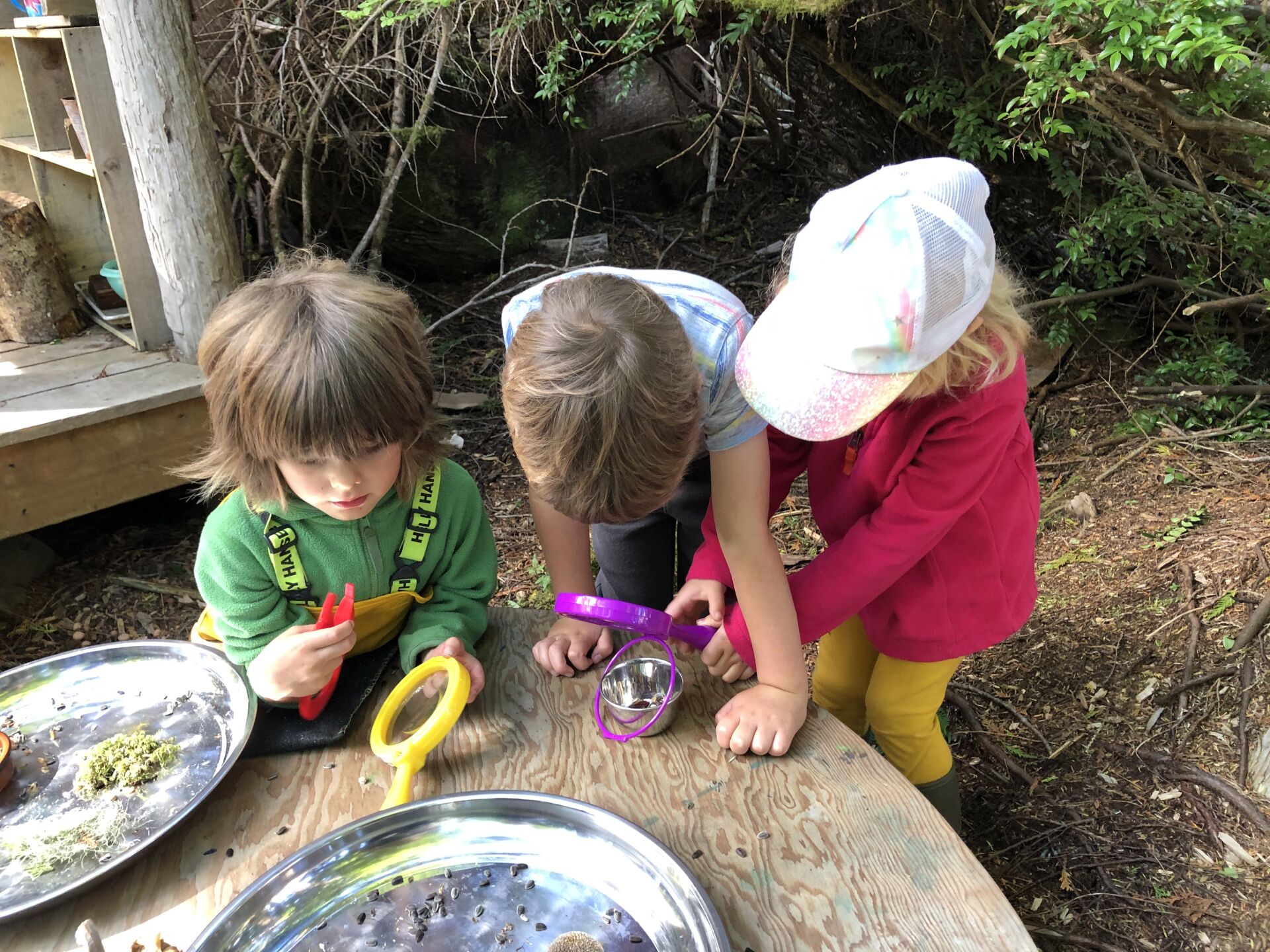 Other photo submissions included this image of the Tofino Nature Kids using magnifying glasses to explore the Tofino Botanical Gardens. This image illustrates the Tofino Nature Kids aligning with goals of gender equality and empowering young girls to enjoy playing outside.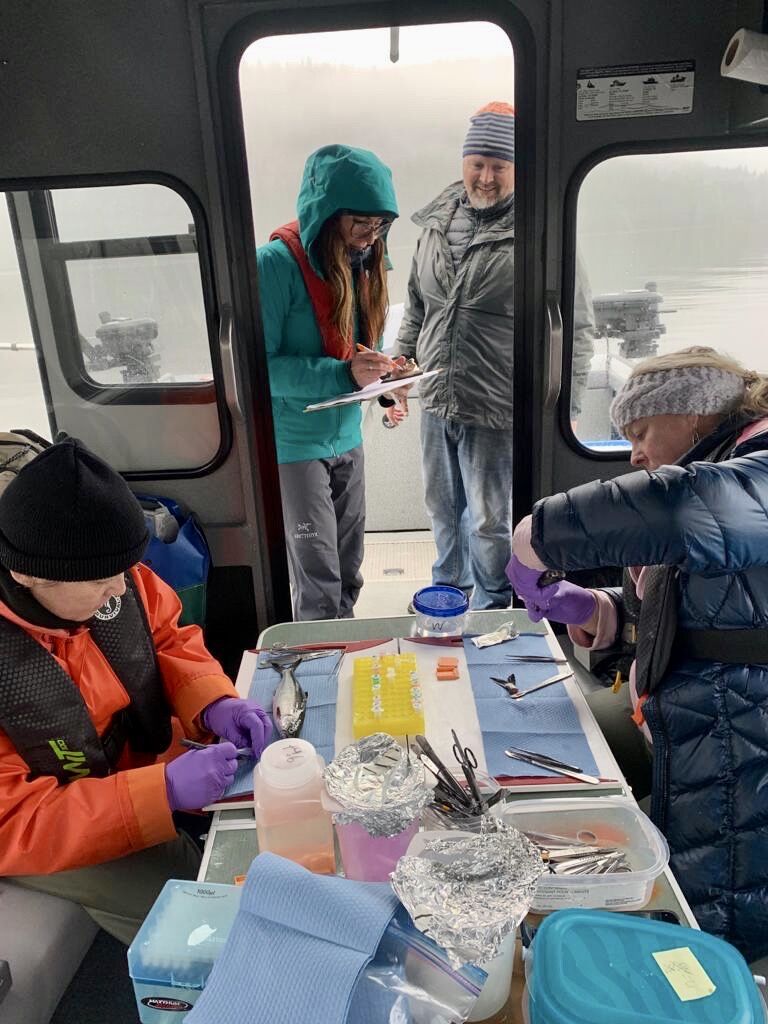 Another submission illustrates Ocean Outfitters Ltd. providing support to the Department of Fisheries and Oceans Molecular Genetics laboratory studies led by Dr. Kristi Miller, as they sampled overwintering juvenile salmon and water for an environmental DNA analysis in Clayoquot Sound. This work will help researchers assess the health of the juvenile salmon including identifying specific stressors and diseases, and understand how the juveniles are using near-shore marine habitat. This image aligns with Goal #14: Life Below Water, Goal #6: Clean Water and Sanitation, and Goal #17: Partnerships.
We would like to thank everyone who participated in the SDG Contests, your submissions were creative and inspiring, and truly reflected the amazing work that our communities do to support and advance the SDGs in the Clayoquot Biosphere Region and beyond!
To learn more about the SDGs and the Global Week to ACT4SDGs, please visit: https://www.un.org/sustainabledevelopment/sustainable-development-goals/