Youth Video Contest
Enter our Youth Video Contest for your chance to become an interviewer, spend a day helping out a local research or monitoring project, and win other great prizes!
The "Science and Conservation in the Clayoquot Biosphere Region" StoryMaps collection is an online resource describing several marine-focused research and monitoring programs. The collection is a great tool for people of all ages, including middle and high school teachers, interested in learning more about local science initiatives. Currently there are four projects led by various organizations featured in the collection, and work is underway to expand current StoryMaps and add new StoryMaps to the collection. West Coast NEST is setting out to get to know the scientists that created the StoryMaps and we are looking for youth to help us conduct the interviews to learn about the creators, their interests, and career paths.
If you're curious about research and monitoring efforts in the region, wanting to learn more about a future career in science and conservation, or some of the different paths that can lead to science and conservation work, and you are between the ages of 10 – 18, then you're invited to enter our Youth Video Contest!
The deadline for submissions is Sunday, March 28, 2021. Submission details and full contest rules are below.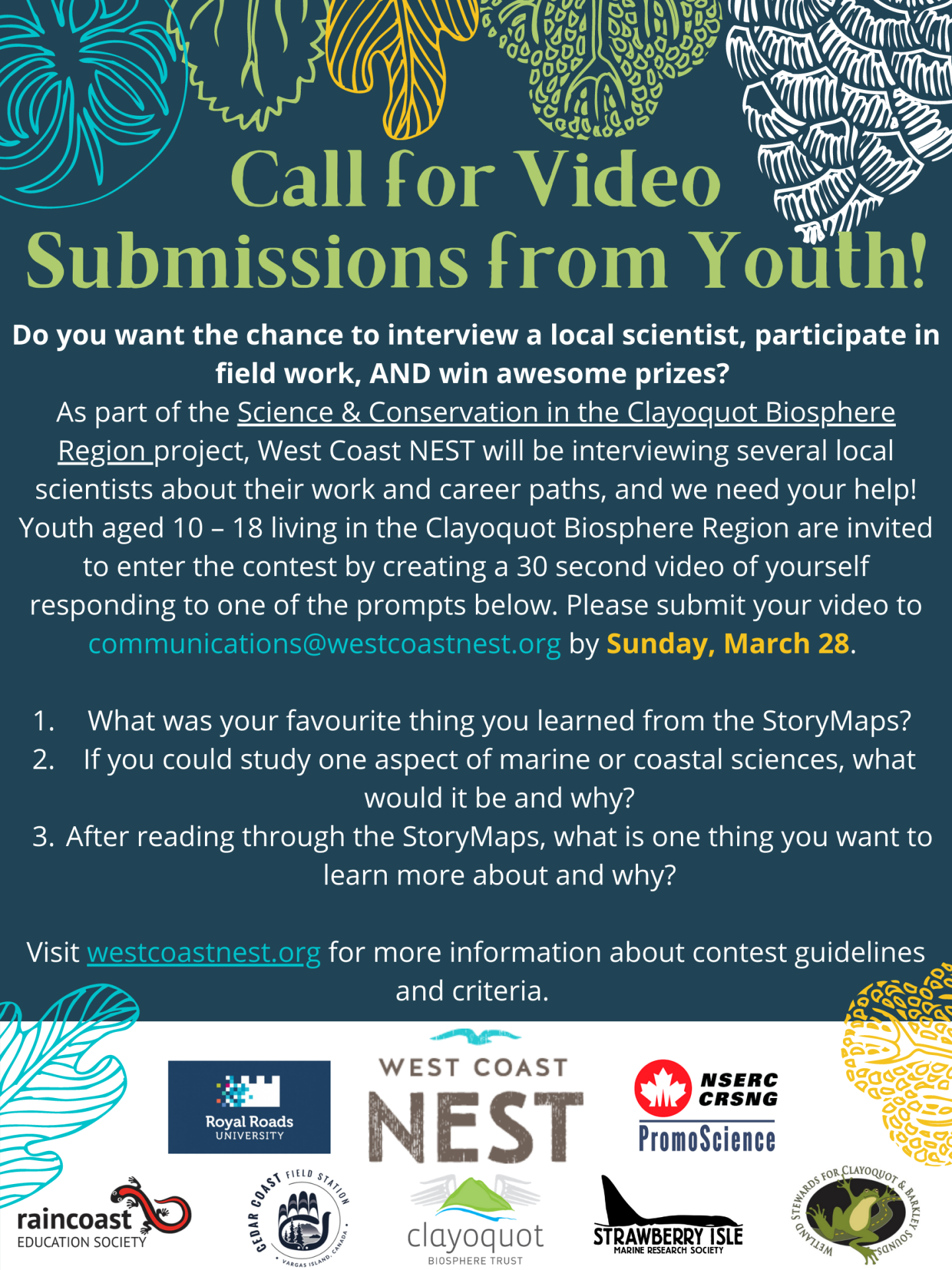 Submission details and contest rules:
We are requesting video submissions from youth aged 10 -18 currently residing in one of the Clayoquot Biosphere Region communities responding to one of the following prompts below. Contest winners will have the opportunity to interview a local scientist from one of the involved organizations, be awarded an awesome prize, and some will also be able to participate in the organization's fieldwork. The scientist interviews will be used to create videos for the West Coast NEST YouTube channel to raise awareness about marine, environmental, and sustainability research and monitoring programs in the region and inspire local youth to pursue careers in these fields. Video submissions must be received by West Coast NEST before Sunday, March 28 at 11:59 p.m. PST.
Review the StoryMaps collection, then create your video submission using one of these prompts:
What was your favourite thing you learned from the StoryMaps?
If you could study one aspect of marine or coastal sciences, what would it be and why?
After reading through the StoryMaps, what is one thing you want to learn more about and why?
Video entries can be up to 30 seconds long and your response to the prompt can be as creative as you want! Please submit your video entry to communications@westcoastnest.org. In your submission email, please be ensure to include the following:
Your name, age, and community where you live (you must currently reside in one of the region's communities listed here or ACRD Area C)
Your completed video.
A completed West Coast NEST Photographic Release Form with your parent/guardian's signature.
Rank in order of preference (1 - 5) which organization you would be most interested in interviewing with and participating in their fieldwork. Organizations include: Association of Wetland Stewards for Clayoquot and Barkley Sounds, Cedar Coast Field Station, Clayoquot Biosphere Trust, Raincoast Education Society, and Strawberry Isle Marine Research Society.
Any other information/details you think may be relevant.
The video submissions will be reviewed by a panel of judges. Please review the Video Judgement Criteria Rubric for more information on how the videos will be assessed. Prior to submitting your video entry, please ensure that your film meets all of the following criteria:
Runs within the 30 second time limit.
The information included in the video is original, accurate, and current. Video entries must be a product of the youth's own ideas, words, and creative work. A friend, family member or guardian may assist in filming and editing if required, however no professional support may be provided.
No copyrighted materials may be used in the video.
No portions of the video are inappropriate. Any videos containing discriminatory comments or messaging will be immediately disqualified. As a program convened by the Clayoquot Biosphere Trust (CBT), West Coast NEST values and vision are that of the CBT, and successful contest entries will align with our values and vision to see the community of the Clayoquot Sound UNESCO Biosphere Region living sustainably in a healthy ecosystem, with a diversified economy, and strong, vibrant, and united cultures, while embracing the Nuu-chah-nulth First Nations living philosophies of iisaak (living respectfully), qwa' aak qin tiič mis (life in the balance), and hišukniš c̓awaak (everything is one and interconnected).
We encourage any interested youth to apply. If you have any questions about the video contest or StoryMaps collection, please reach out to us at communications@westcoastnest.org.
To explore the Science and Conservation in the Clayoquot Biosphere Region StoryMaps collection, please see below.