Preventing Human-Wildlife Conflict
We share the land with an abundance of wildlife here on the west coast, so it's not surprising that wildlife sightings are a common occurrence. Over time, as the number of people living within and visiting the region increases, the number of wildlife sightings and conflicts are also increasing. With summer in full swing and fruit trees quickly ripening, there is no time like the present to educate or remind ourselves on what we can do as residents and visitors of the area to help keep wildlife, and ourselves safe.
Regional wildlife interactions range from commonly spotted dumpster diving raccoons to increased black bear sightings in summer months, to run-ins with elusive cougars and wolves. One thing that these species all have in common is their food drive. Despite their natural wariness of humans, many of our communities' day-to-day activities present attractive meal alternatives that are too good for a hungry animal to pass up.
Here on the peninsula, we are lucky to have the help and guidance of WildSafeBC coordinators Bob Hansen in Tofino-Ucluelet and Marianne Paquette for Hitacu-Macoah. WildSafeBC remains the "provincial leader in preventing conflict with wildlife" through education and collaboration with residents, visitors, and businesses to create community solutions for widespread wildlife issues. Our regional WildSafeBC coordinators emphasize the importance of education in establishing habits that maintain a healthy relationship with our furry neighbours. Luckily, many of the solutions are relatively simple!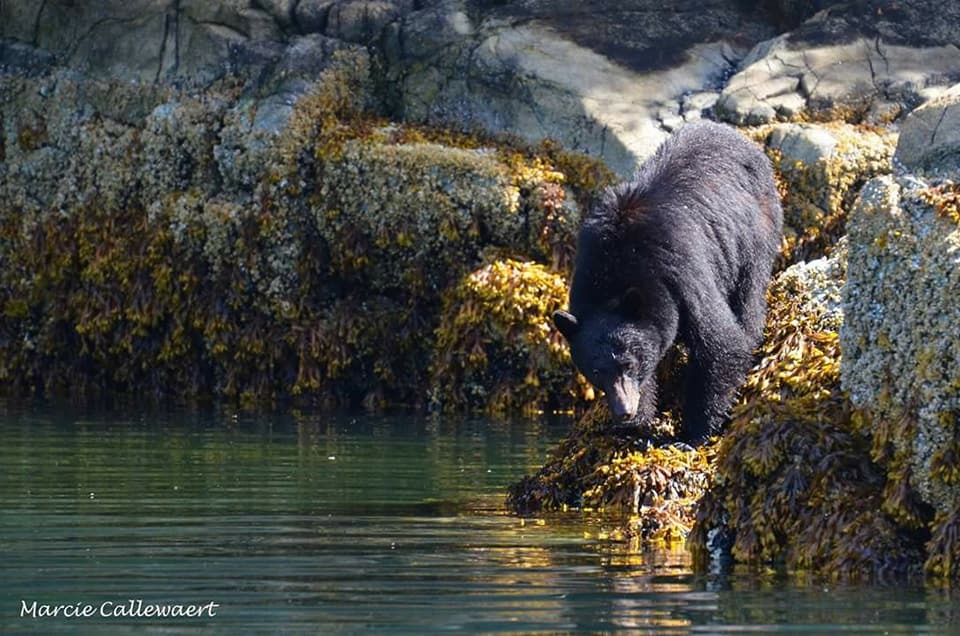 If you're visiting the region this summer, the following are a few suggestions to help you remain "bear aware" and "WildSafe" during your stay:
Start by doing a little research! Look into what wildlife you may come across during your visit, just like you would if you were travelling to a foreign country. This research can help guide your packing decisions and inform you on conscientious practices.
Never throw waste (organic or not) out your vehicle windows as it draws wildlife to busy roadways.
If you can pack it in, you can pack it out! Be sure to never leave waste at any of the beaches, trails, or campsites you visit. During the busy summer months, many municipal waste disposal units become overwhelmed. Rather than placing waste on top or beside an overflowing basket, hold on to it until you can dispose of it properly!
Never intentionally feed a wild animal. Though it may seem like common sense, feeding animals for photo opportunities is a more common issue than you may think. In fact, if you come across a wolf or cougar, send it a clear message that you want it to leave. Get big and make some noise! This will help reinforce the animal's natural wariness of humans.
Leash up your pooch when visiting the area! Almost yearly, our healthy wolf population has a run in with an off-leash dog, perceiving it as either prey or competition. Off-leash dogs have also been known to lead larger wildlife like bears, cougars and wolves back to their owners.
Here's a few simple steps that residents of the area can take to reduce wildlife attractants around their homes and maintain a safe environment:
Watch your garbage and recycling! Garbage is the number one reported attractant of bears in the region. Keeping garbage and recycling bins indoors and holding off on placing them curbside for as long as possible can make a huge difference.
Large commercial bins are for business use only. Never leave garbage on top of or beside a bin. If you have a commercial bin at your business or place of work, ensure it is well secured with a metal bar and clasps after each use.
Keep your pet food indoors. Smelly pet food excites wild animals the same way it does your pets!
Did you know that bird feed has approximately 8000 calories/kg? That's an easy snack for a hungry animal. If you can part with your bird feeders, then remove them altogether! Otherwise, reduce the amount of feed you add and ensure that it doesn't accumulate on the ground.
Practice proper composting habits. If you have at-home composting, stir the heap regularly to ensure that organics are not left resting on top. Not only will this help the decomposition process, but it will also reduce smell.
Be sure to burn off and scrub your barbeques thoroughly after each use and empty your grease traps regularly.
Chickens and other livestock and livestock feed are attractants to a host of wildlife. You can apply for subsidies to help pay for the installment of electric fencing to protect your livestock and prevent conflict with wildlife. Electric fencing is also a versatile tool for protecting garbage and recycling sheds, fruit trees and composters.
If you are experiencing any bear, wolf or cougar interactions around your home or community, report it! Call the 24/7 provincial RAPP Line at 1(877)952-7277. No matter how inconsequential the event may seem, the sooner professionals are alerted to animals in the area, the more time they have to monitor the situation and address it with low impact strategies. Sign up for the free WildSafeBC Wildlife Alert Reporting Program (WARP) to track your own sightings and to be alerted to other reports in your neighborhood.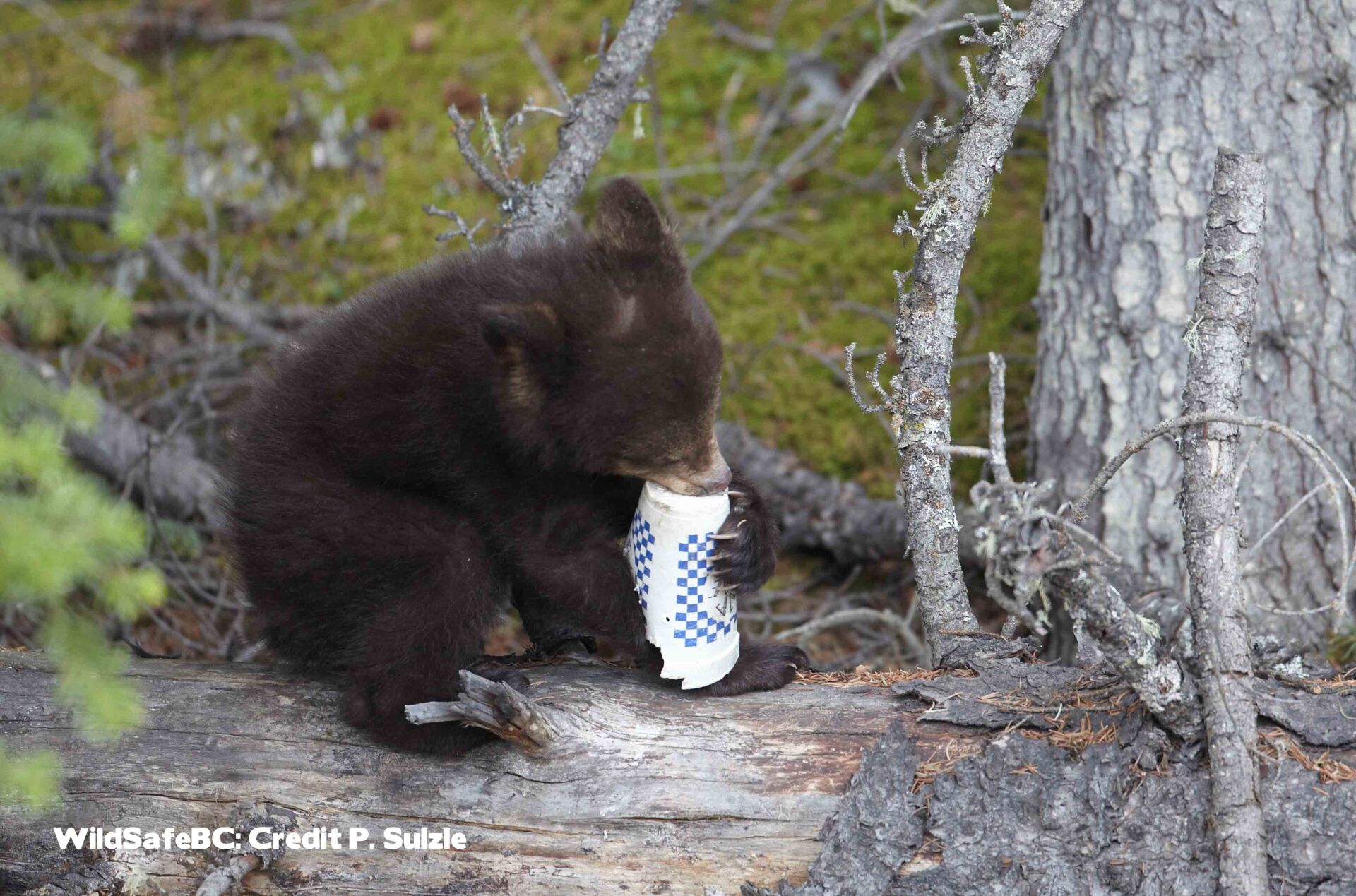 If you're lucky enough to have fruit trees on your property, make sure to pick the fruit early and frequently. In recent summers, every community on the coast has seen black bears in its fruit trees, resulting in the destruction of 13 bears one year. In response to this tragedy, the Tofino Community Food Initiative is piloting its new Fruit Gleaning Program this summer with the support of Ocean Outfitters and the Clayoquot Biosphere Trust. Through education and volunteerism, this program is designed to help homeowners and renters manage their fruit trees.
You can register your tree with the Tofino Community Food Initiative, who will remind you when it is time to pick your fruit. For those who need assistance, the "Glean Team" volunteers will visit your residence and pick the fruit for you! One third of fruit is left for the homeowner, one third is taken by volunteers, and the remainder is distributed for use in the community. Not only does the program help reduce bear attractants, but it also ensures that good food isn't going to waste. A win, win!
WildSafeBC additionally runs several fantastic programs in the region that are proven to help reduce negative wildlife interactions. The organization has developed a comprehensive toolkit to help campground operators implement the WildSafeBC Bare Campsite Program, which was originally created at Pacific Rim National Park Reserve's Green Point Campground. Other elements of WildSafeBC programs include door-to-door education, information booths, the WildSafe Ranger Youth Program and the WildSafe Business Pledge Program.
The more community engagement these programs receive, the more effective they will be. These animals are a huge part of why our coast is such a special place, so let's work together to create a safe wildlife landscape for years to come. You can help "Care for the Coast" by educating yourself on our regional wildlife and how your actions may impact their wellbeing. Practice the tips listed above and use the resources available to you!
A very special thanks to Hélène Descoteaux from the Tofino Community Food Initiative, and Marianne Paquette and Bob Hansen from WildSafeBC for taking the time to sit down with the West Coast NEST and share their knowledge.