Family Literacy Day Resources
Today is Family Literacy Day! Every year on January 27th since 1999, schools, education-based organizations, libraries, community groups, and individuals come together with the help of ABC Life Literacy Canada to raise awareness about the importance of reading and other literacy-related activities. Though we may associate child literacy with school, children spend most of their time NOT at school and so it is important to extend literacy developing exercises beyond the four walls of the classroom.
The theme of this year's Family Literacy Day is "Learning in the Great Outdoors". Poised on the edge of the country in the Clayoquot Biosphere Region, we are more than equipped to celebrate! Read on to discover a few fantastic literacy resources provided by ABC Life Literacy Canada, and how you can apply them locally to help boost your family's literacy in the great outdoors!
Use this Family Literacy Day Scavenger Hunt to spice up your weekend stroll! Scavenger hunts are a great way to engage children and make the most of your time on the trails. Younger children will benefit from connecting names to real-world items and living things. Older children may further benefit by reading the scavenger list themselves.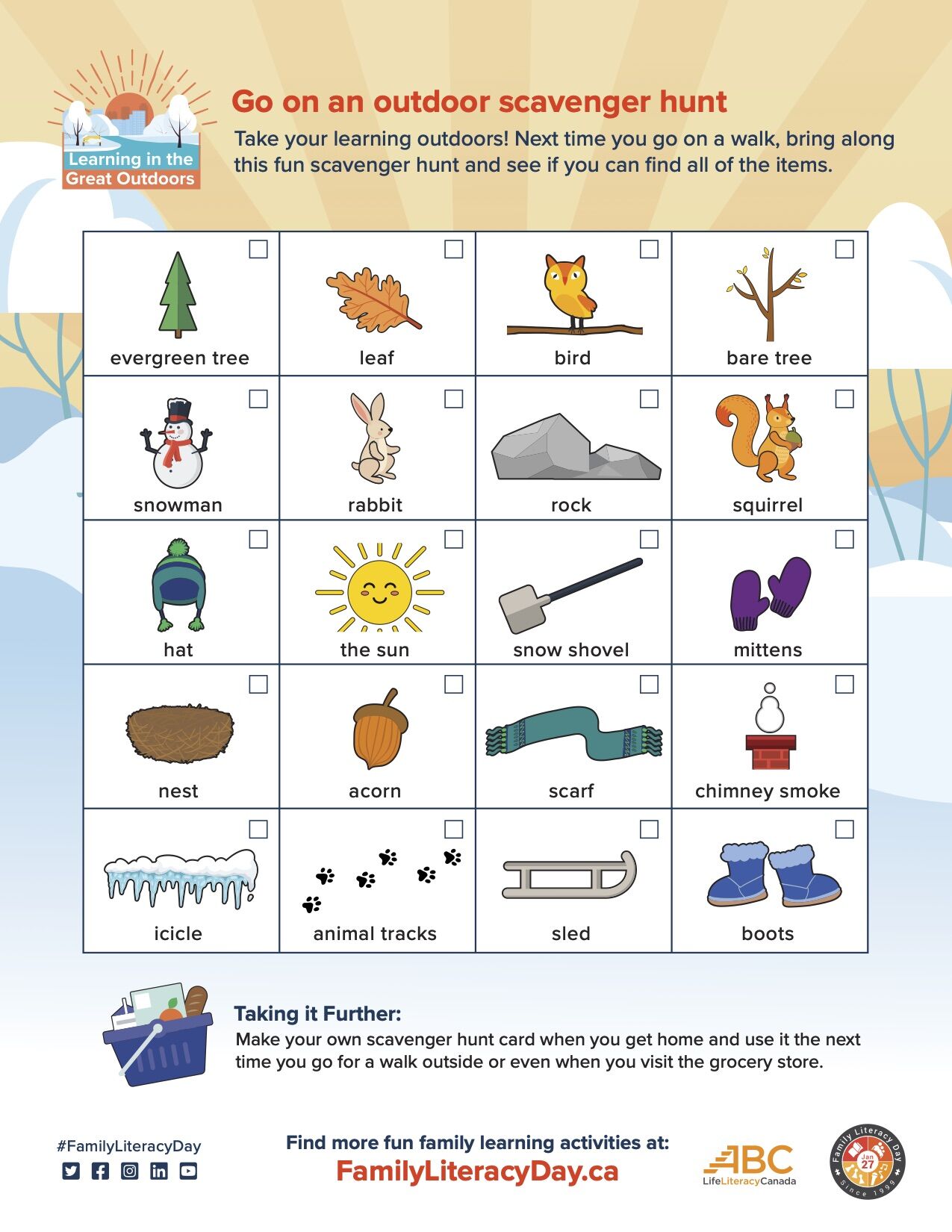 Outdoor scavenger hunt activities can be applied ANYWHERE, but on the coast, we're lucky to have a network of fantastic local trails, many with signs that offer insight into the surrounding environment. Educational trail options in the region include the Wild Pacific Trail in Ucluelet and the Tonquin Beach Trail System in Tofino. Stopping to read the signs is a great literacy strengthening activity on its own, but you can also use them to create your own scavenger hunt pages that include regional language, and local flora, fauna, and landmarks. For the families with slightly older, more independent, and maybe more competitive children, an Outdoors Bingo Card is a great alternative to the scavenger hunt! See who can collect all the items on the card first!
Who remembers laughing till you cried at the silliness of Mad Lib sheets? Creating outdoors/nature-based Mad Libs sheets can help get kids' wheels turning on many literacy-strengthening subjects. One of such subjects is differentiating between nouns, verbs, and adjectives. Sometimes hearing the silly sentences back can further help children understand what is, or more importantly, what isn't proper sentence structure. You can use the Family Literacy Day Mad Libs Worksheet attached below, or easily create your own based on personal experiences from the beaches, forests, harbours, and gardens just outside your door. Take the sheet outside and let nature inspire your children's responses!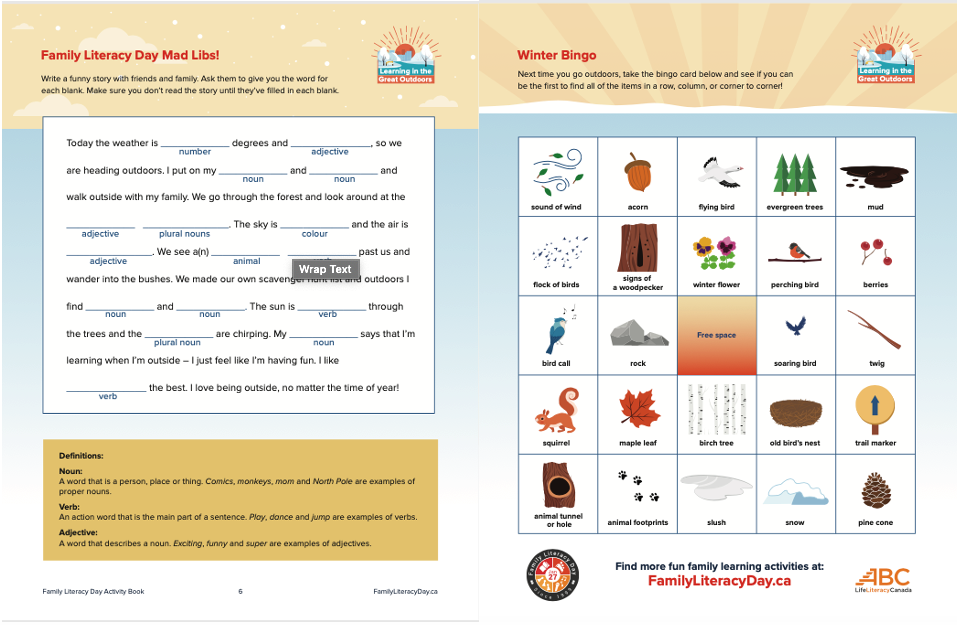 Follow the link for access to the entire ABC Life Literacy Canada: Family Literacy Day 2022 Activity Book to find more family-focused, fun literacy exercises! Pick your favourite activities and take them outdoors with you this weekend!