Diving Deep into the Magnificent World of Mollusks!
In the winter of 2021, Raincoast Education Society hosted their long-running social and educational winter speaker series, with this year's focus on "Magnificent Mollusks". The annual speaker series invites experts from around the world to lead in-depth discussions on a variety of science-based topics, with past speaker series' themes including Pelagic Ecosystems, Marine Predators and Prey, Old Growth Forests, and more. These speaker series provide an opportunity for the communities of the Clayoquot Biosphere Region to come together and engage in a free, fun, and educational learning opportunity during the darkest part of the winter.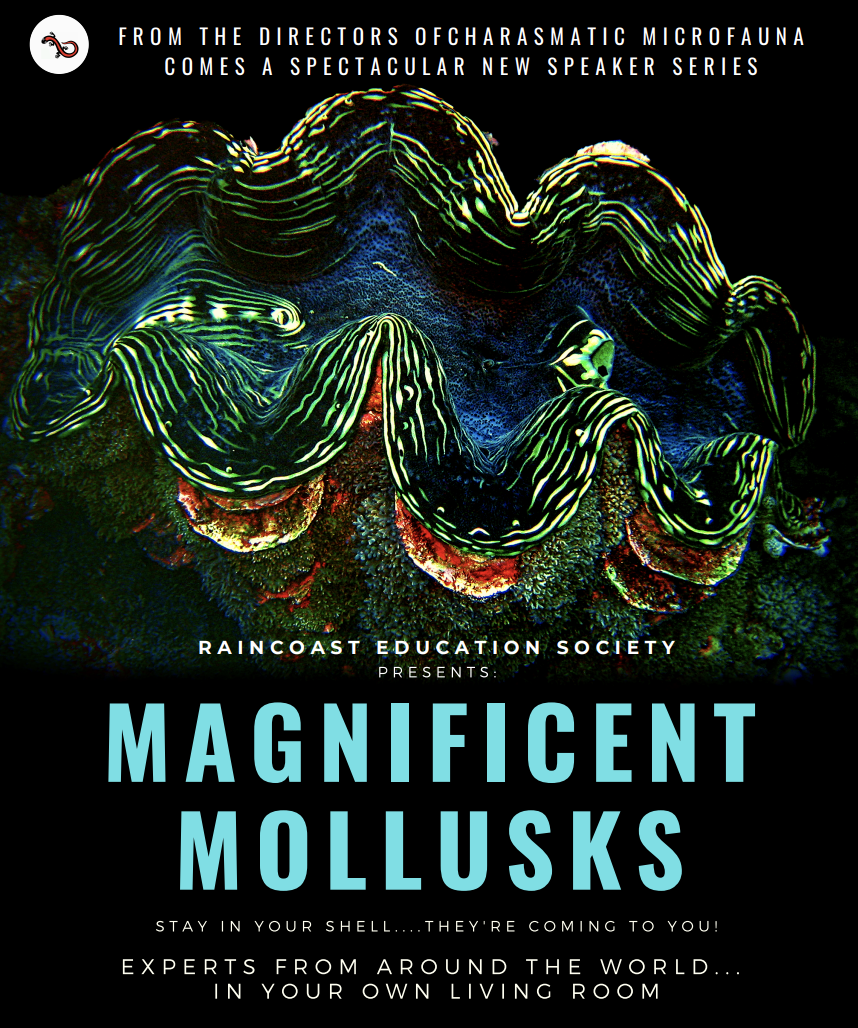 With the 2021 Speaker Series' transition online, Raincoast Education Society was able to host international speakers from Australia, Singapore, and elsewhere. The opportunity to invite a variety of speakers ensured that the dynamic role that mollusks play in our ecological, social, and economic systems could be thoroughly explored. From mollusks' economic value as food and jewelry as far back as we can look, to their use in large-scale efforts to renew and recreate healthy ecosystems now and into the future, mollusks play an important role in countless aspects of our day-to-day lives.
The first speaker event of the Magnificent Mollusks series explored the importance and traditional resource management practices of clam gardens with Nicole Smith, a professional archaeologist based in Victoria, B.C. Nuu-chah-nulth nations have been building and caring for clam gardens for at least 3,500 years. Nicole Smith discussed how the Clam Garden Network has been combining many ways of knowing (traditional and scientific) to advance our understanding of local traditional mariculture.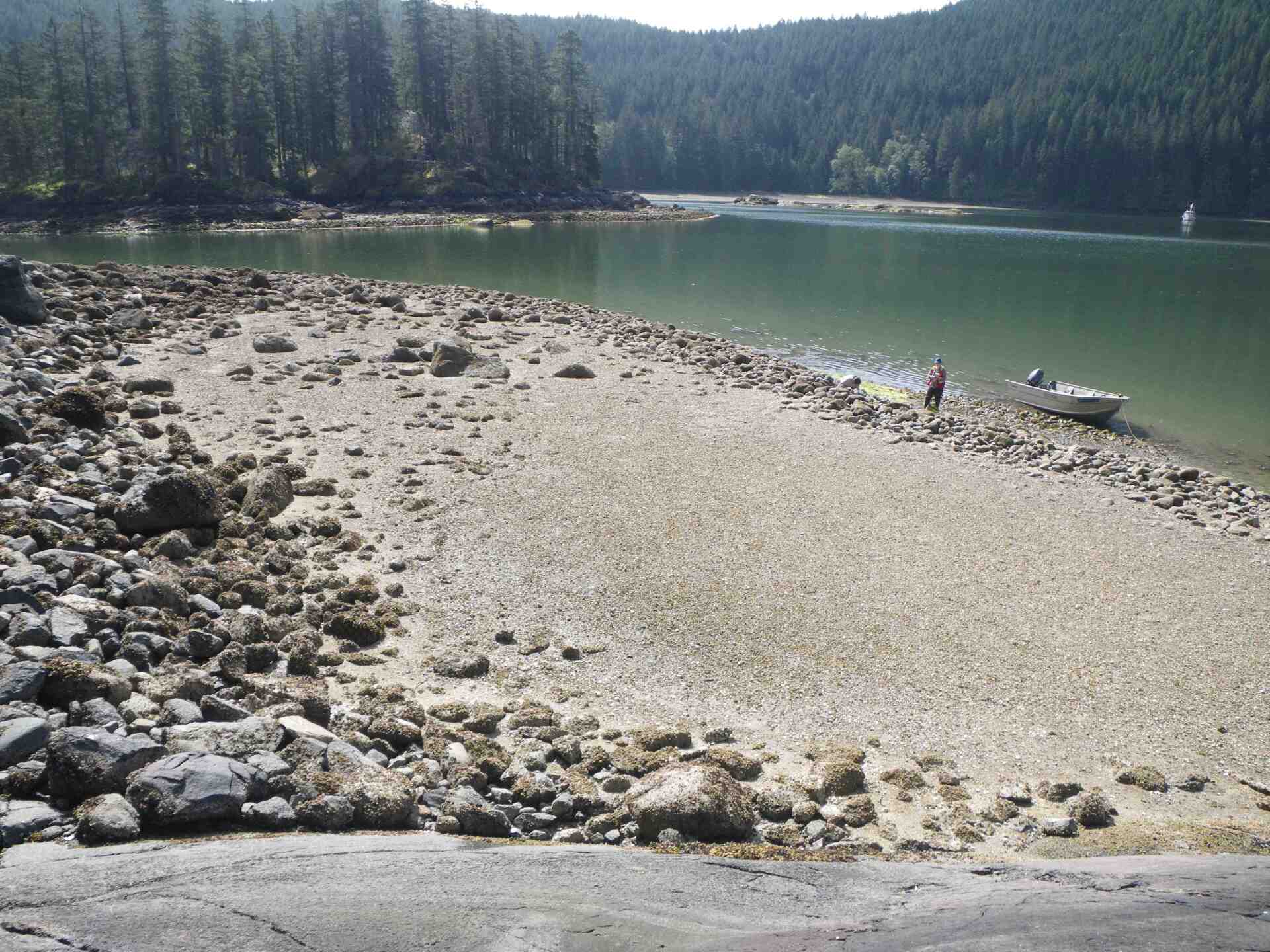 Image of Clam Gardens. Photo Credit: Nicole Smith
During the second speaker event, Chef Ian Riddick of Heartwood Kitchen in Ucluelet, B.C., shared his tips and tricks on cleaning, steaming, shucking, and cooking shellfish and even provided participants a few coveted recipes. The event provided participants with the skills and knowledge to safely, sustainably, respectfully, and responsibly harvest, prepare, and enjoy seafood of the west coast of Vancouver Island.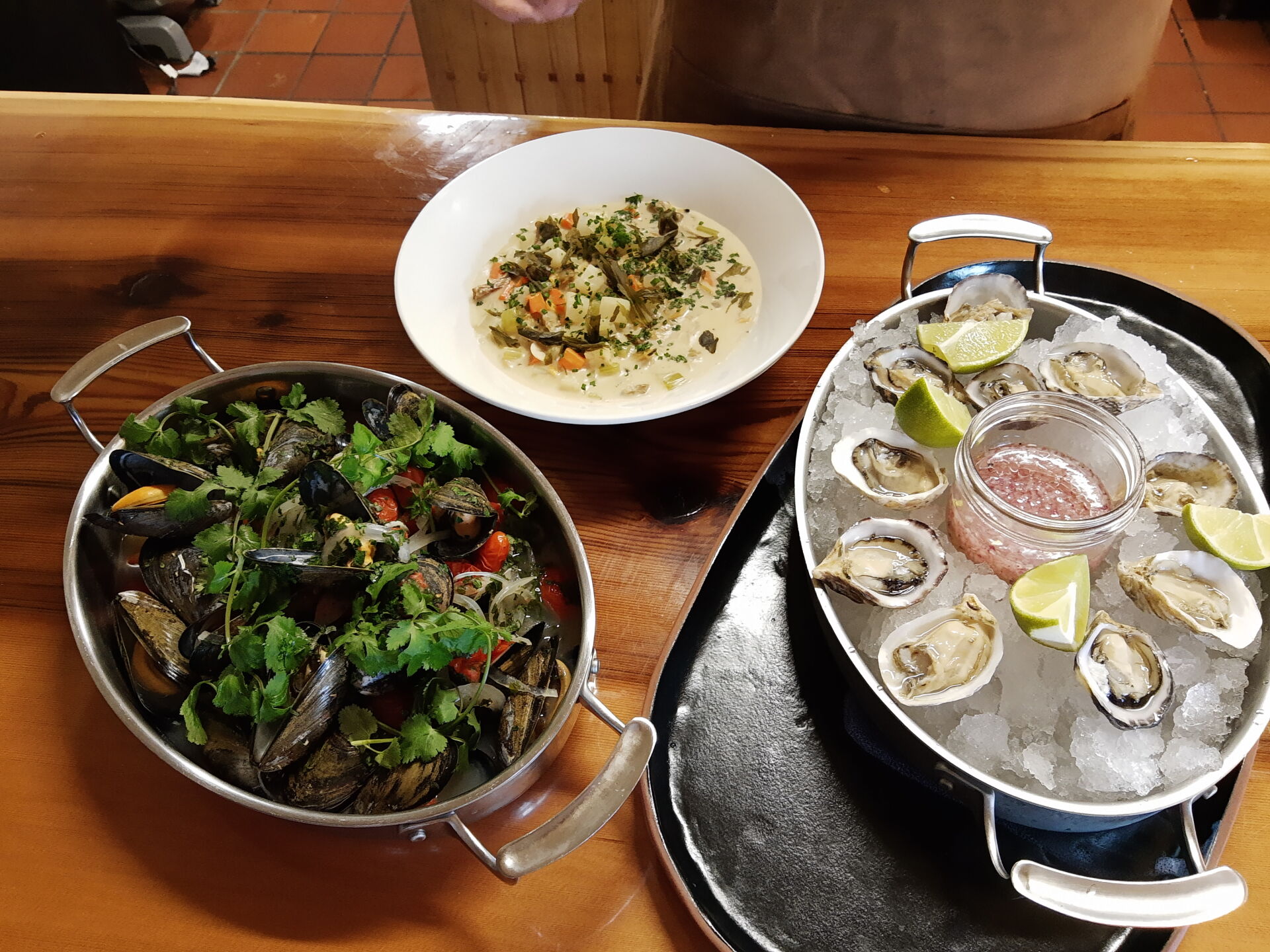 Image of seafood of the west coast prepared by Chef Ian Riddick. Photo Credit: Raincoast Education Society
The third speaker event invited Dr. Mei Lin Neo, a marine ecologist and science communicator based in Singapore, to discuss the world's largest bivalve, the giant clam! Dr. Mei Lin Neo shared with the audience the ecological significance of this megafauna and the importance of building a network with scientific peers and citizen scientists to share research and data to prioritize the conservation of endangered marine species.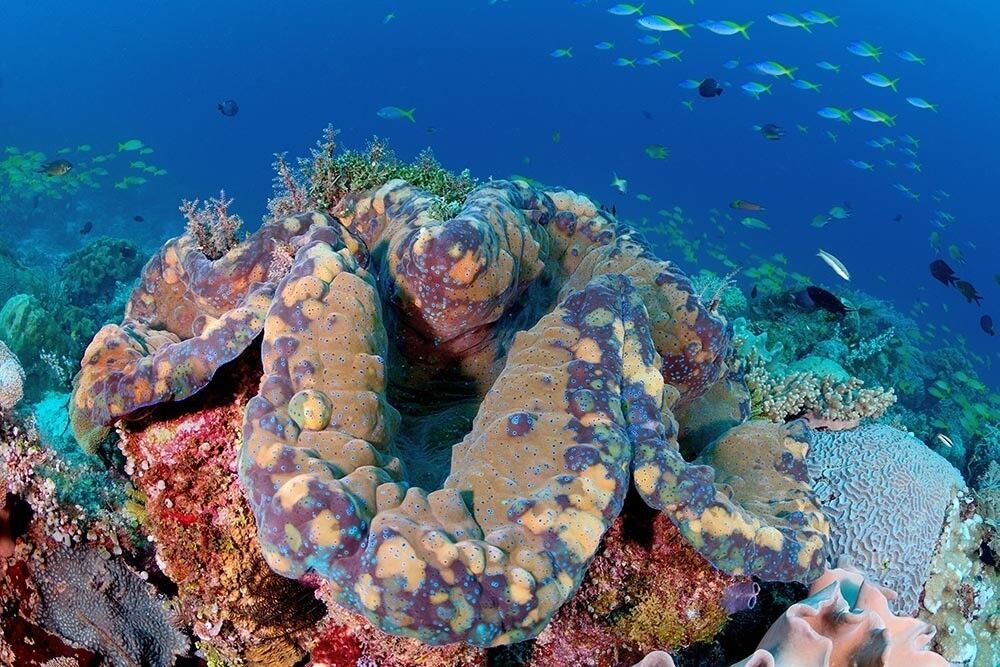 Image of a giant clam. Photo Credit: Victor Tang
During the fourth speaker event, the audience was joined by J.P. Hastey and Angela Fortune of Nova Harvest Ltd. based in Bamfield, B.C., to discuss the opportunities, challenges, and potentials within the shellfish aquaculture industry on the west coast, including a behind-the-scenes tour of a commercial shellfish hatchery.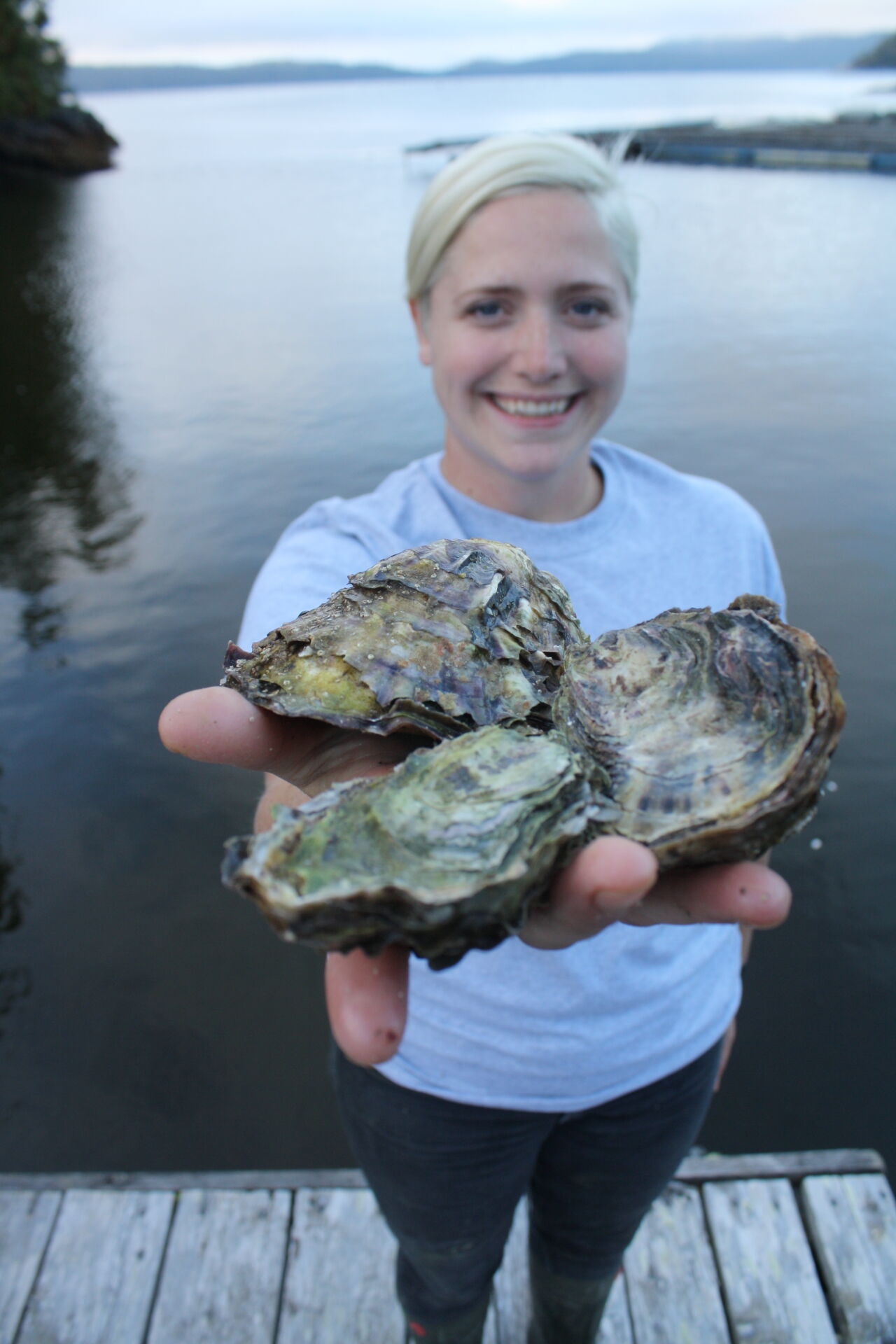 Image of Angela Fortune holding Nova Harvest Ltd. shellfish. Photo Credit: Nova Harvest Ltd.
The fifth and last speaker event of the series was led by Dr. Melanie Bishop, an estuarine and coastal ecologist in Sydney, Australia. Dr. Melanie Bishop discussed the global plight of oyster reefs, and the key environmental benefits of restoring oyster reefs including their important roles in supporting fisheries productivity, maintaining clean water, and protecting shorelines and associated biodiversity from the effects of climate change.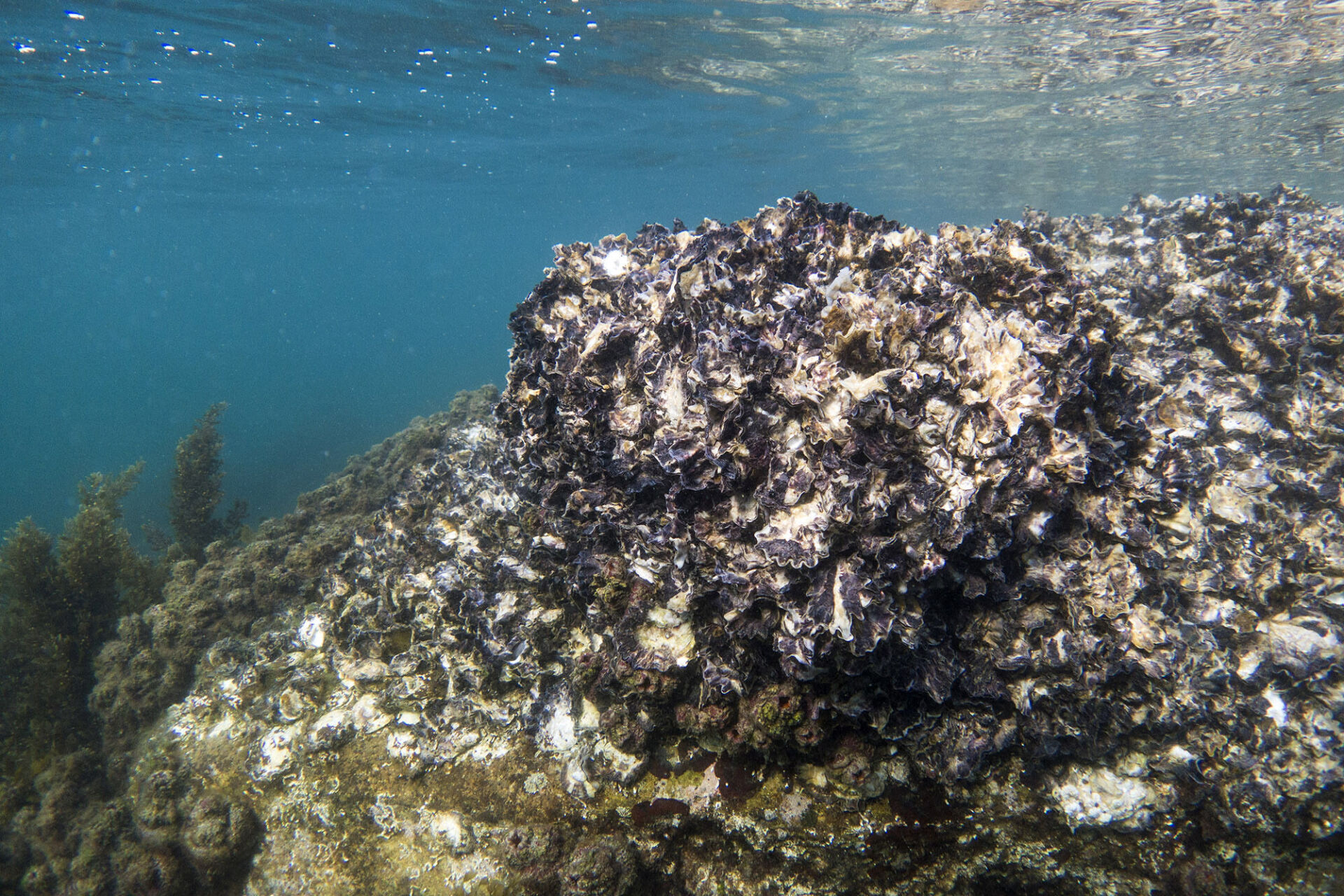 Image of an oyster reef. Photo Credit: Marine Explorer
The Magnificent Mollusks speaker events were well-attended, with over 250 unique viewers over the entire series. Another benefit of hosting the speaker series online was that individuals from all over Canada and the globe were able to participate, with over 20% of this year's audience from off Vancouver Island. Furthermore, hosting the speaker series over Zoom meant that speakers from all over the world could share their research and conservation on a global scale, expanding the event from a focus on the Canadian marine context to an international scope. This also created exciting new cross-national learning opportunities. For example, Mark Maftei of Raincoast Education Society communicated his excitement to learn more about oyster reefs and how the speaker event led by Dr. Melanie Bishop piqued his interest in the viability of oyster reefs for Tofino as eco-friendly breakwaters.
The Magnificent Mollusks Winter Speaker Series was an awesome opportunity for local and international participants to learn more and take a deep dive into the fascinating world of mollusks with international experts. The Magnificent Mollusks Speaker Series is a free community event that is made possible by local community business sponsors.
To explore some of the Magnificent Mollusks speaker events and to learn more about Raincoast Education Society, please visit here.