Celebrating 34 years of the Pacific Rim Whale Festival
One of the region's most beloved traditions, the Pacific Rim Whale Festival, will be returning this spring to celebrate life on the coast for the 34th time!
The Pacific Rim Whale Festival was first held nearly 40 years ago in Ucluelet. It was birthed from a desire to celebrate the wonders of coastal nature, and to raise awareness of the spring Grey Whale migration and local aquatic ecosystems. Pacific Grey Whales, or ciłciłn̓i in the Nuu-chah-nulth language, travel annually from the warm waters of Mexico up to the Alaskan coast, with a handful choosing to cut their journey short and spend their summers in the waters off of Vancouver Island. The population was nearly pushed to extinction in the 1900's due to excessive commercial hunting but has recovered since the enactment of Federal protection measures. Conservation of these beautiful creatures was, and remains, the spirit of the festival.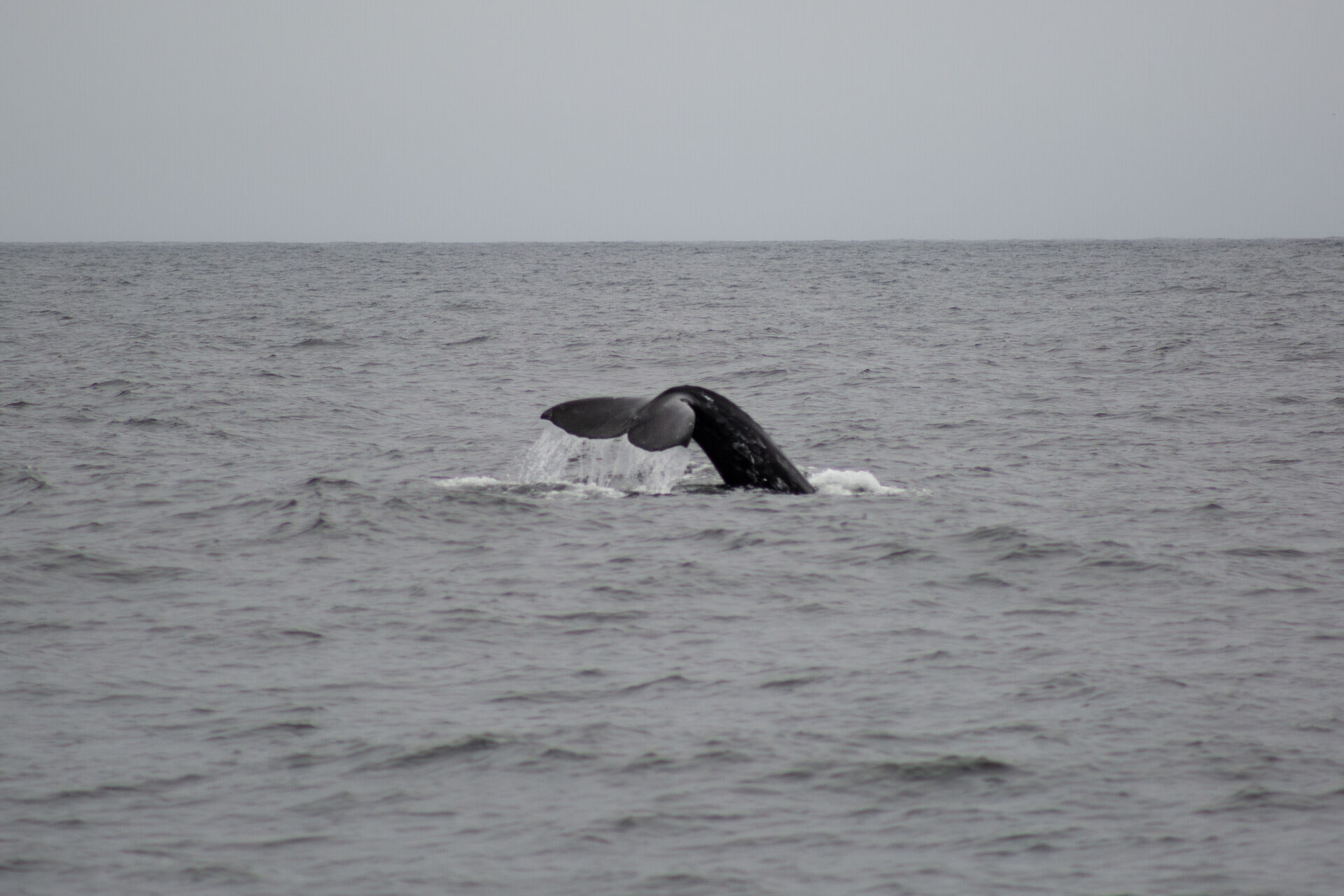 A grey whale takes a dive into deep off-shore waters. Photo credit: Sarah Watt.
Grey Whales are once again a common sighting in the Clayoquot and Barkley Sounds and shallow coastal waters. In fact, you may have already seen one yourself! They are a species of baleen whale distinguished by their small, knuckle-like dorsal fins and their mottled grey skin that often looks like it has been splattered with white paint. These unique markings can be used to identify individual whales who often return to the region year after year.
Despite conservation efforts, there are still numerous threats to Grey Whales, their fellow marine species, and the ecosystems that they occupy. Threats include climate change, vessel strikes, marine debris, and habitat degradation. In fact, Pacific Grey Whale populations are currently experiencing what is known as a UME (Unusual Mortality Event) of undetermined origins. It is therefore important to continue prioritizing environmental education through events like the Pacific Rim Whale Festival to help individuals understand their role and discover ways they can help.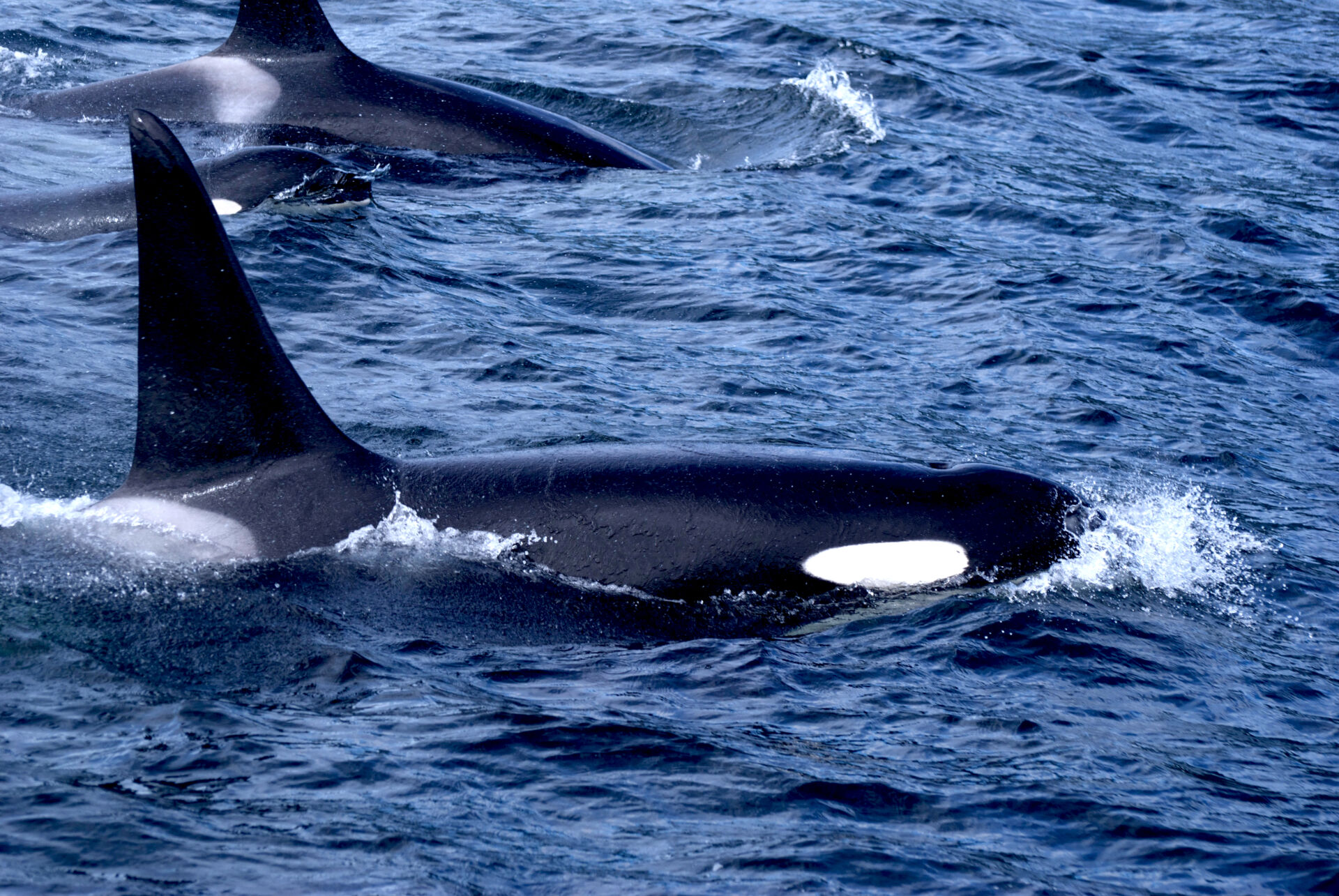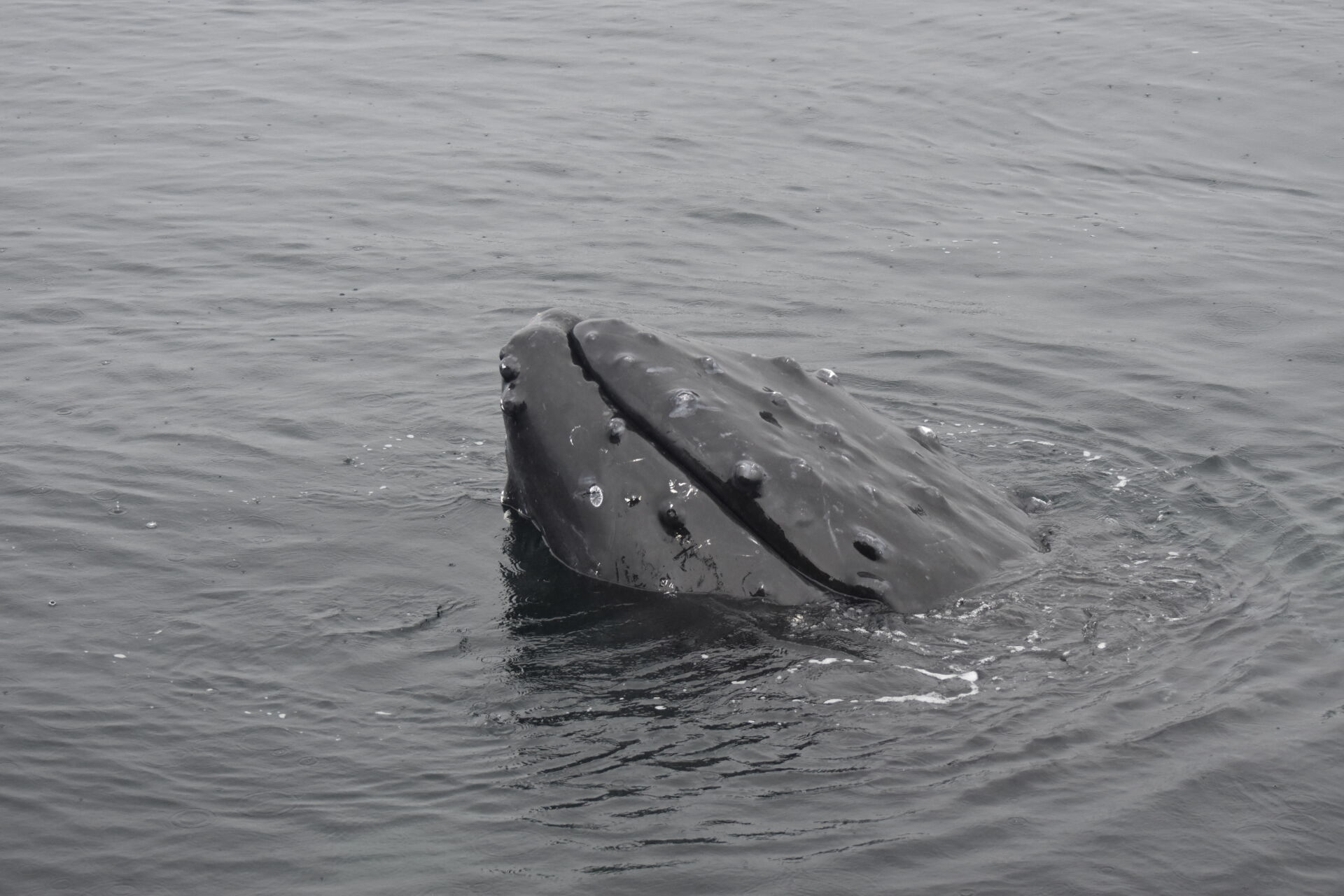 Killer Whales (Kakawin) and Humpback Whales (ʔiihtuup): two cohabitants of the Grey Whale on the coast of Vancouver Island. Photo credit: Robyn Hutchings.
This year's festivities, taking place between Ucluelet and Tofino, will emphasize the region's environmental research and sustainability initiatives through a blend of virtual and in-person learning opportunities. Though the pandemic has temporarily paused some crowd-favourites (including the annual parade and Chowder Chow-Down), the newly incorporated online element actually helps facilitate participation from more attendees and harder-to-reach guest speakers. This year, the festival will be joined virtually by Dr. Nicholas Pyenson, a marine mammal fossil curator from the Smithsonian's National Museum of Natural History, who will speak about the Grey Whale's transition from land to water long ago.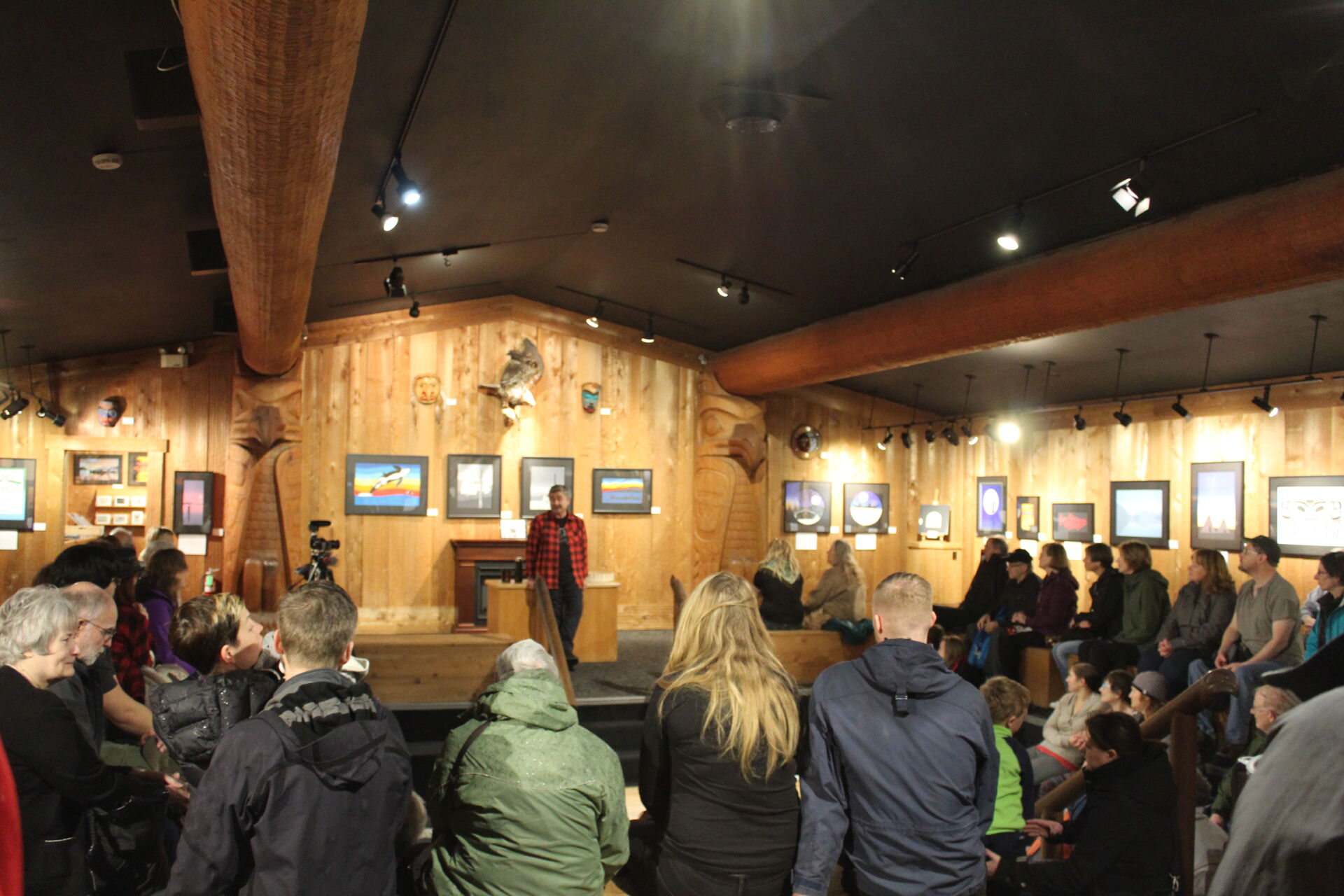 A storytelling event with artist Roy Henry Vickers from a previous year of the Pacific Rim Whale Festival.
Accompanying speakers from afar, the festival will also draw on local knowledge. You can expect contributions from the team at Strawberry Isle Marine Research Society who will be hosting a number of workshops, including their Build-A-Whale workshop. Jamie's Whaling Station and the Huu-ay-aht First Nation are partnering for a cultural whale-watching tour off the coast of Bamfield. And the Ucluelet Aquarium will peek under the water's surface to explore the many little critters inhabiting the coast (and their aquarium) during a beach seine activity.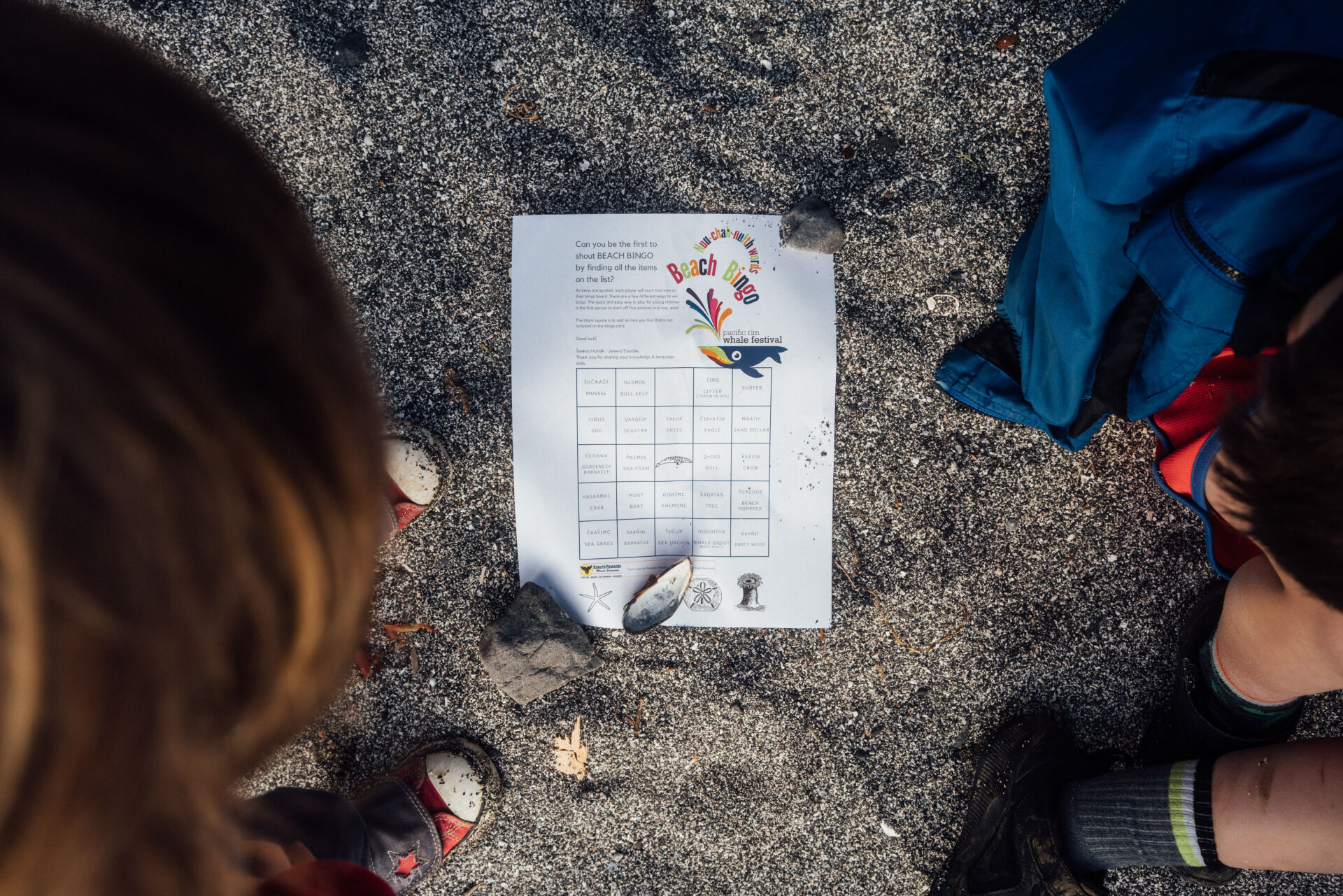 Curious kids filling out a Nuu-chah-nulth language Beach Bingo card. Photo credit: Andi Wardrop.
Festival staff hope to educate, inspire, entertain, and demonstrate to attendees that there are limitless ways to connect with nature and sustainability beyond just science. You can find this connection through food, storytelling, art, song, and so much more. Embodying this sentiment, the team at Heartwood Kitchen will be hosting a number of culinary events, there will be a marine debris art workshop, and Barnacle Ballads will also return with performances from Tiller's Folly and Uzume Taiko. This is only a fraction of what the festival has in store, so be sure to stay tuned for more details as they are released over the coming weeks! Confirmed events to date can be found on the festival's Event Calendar.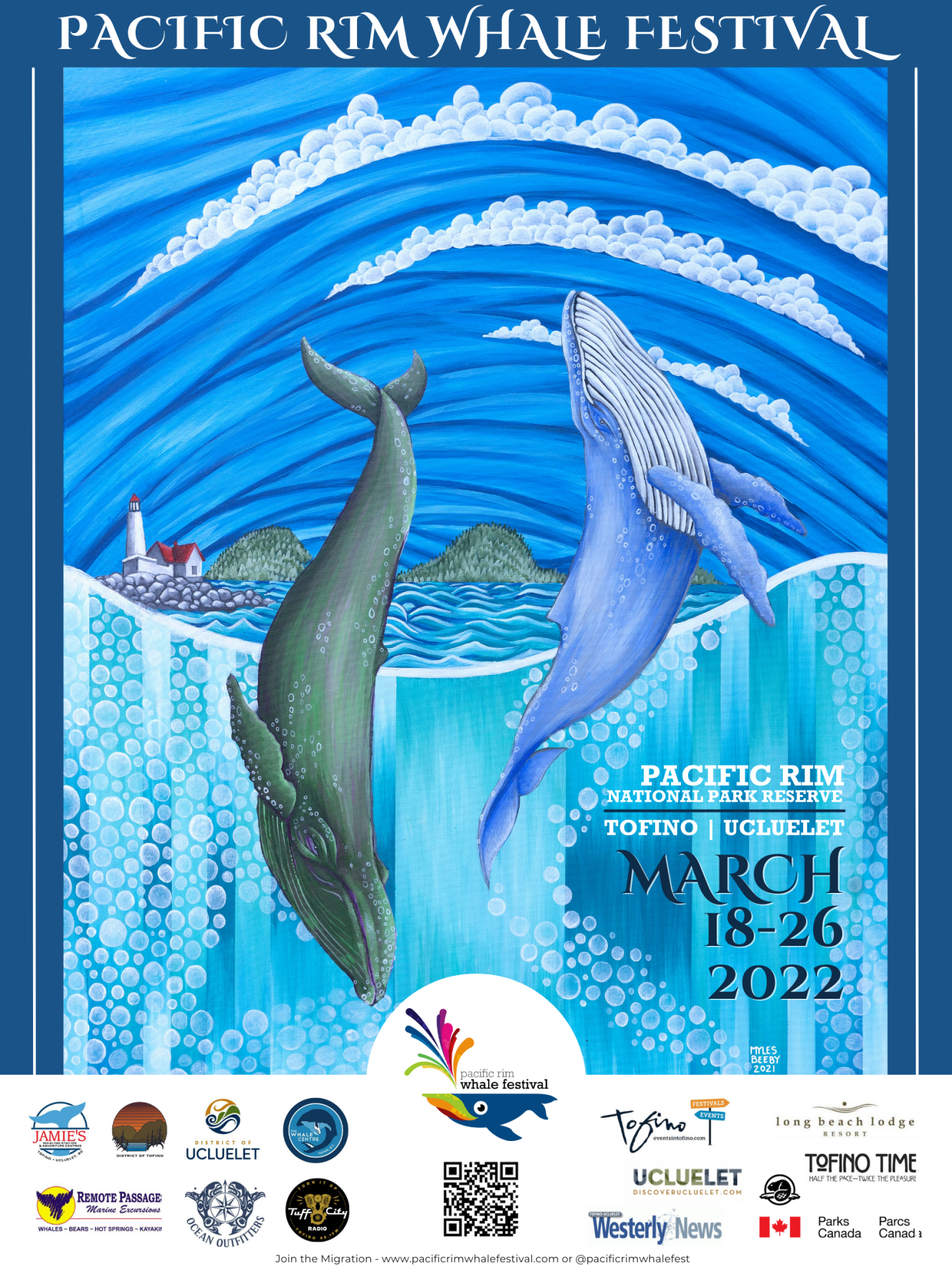 This year's beautiful festival poster, created by local artist Myles Beeby. Photo credit: Myles Beeby.
The Pacific Rim Whale Festival can always benefit from the support of more volunteers. If you are interested in lending a helping hand this year, you can fill out a volunteer application form on their website. Stay up to date with event details on the festival's Instagram and Facebook pages, and register for workshops and events on their official webpage. Registration is set to open Monday, February 28th.
Special thanks to Sarah, coordinator of the Pacific Rim Whale Festival, for sitting down with the West Coast NEST.