A Look Back: Seaweed Fest 2019
Canada's west coast is home to 700 different species of seaweed, and this ocean superfood is quickly becoming a popular wild food to forage and collect. Many local chefs and producers are increasingly using it in their dishes and products, such as the infamous Tofino Brewing Company Kelp Stout!
The 2019 Seaweed Fest, a one-day food-themed event that paired immersive learning with quality dining, aimed to introduce local and visiting learners to the marvels of Pacific seaweeds. The day-long event, hosted by the West Coast NEST, was broken up into three parts including a beach walk and foraging workshop, a kelp pickling workshop, and a seaweed-themed lunch by Picnic Charcuterie and dinner curated by local Chef Paul Moran, then of 1909 Kitchen.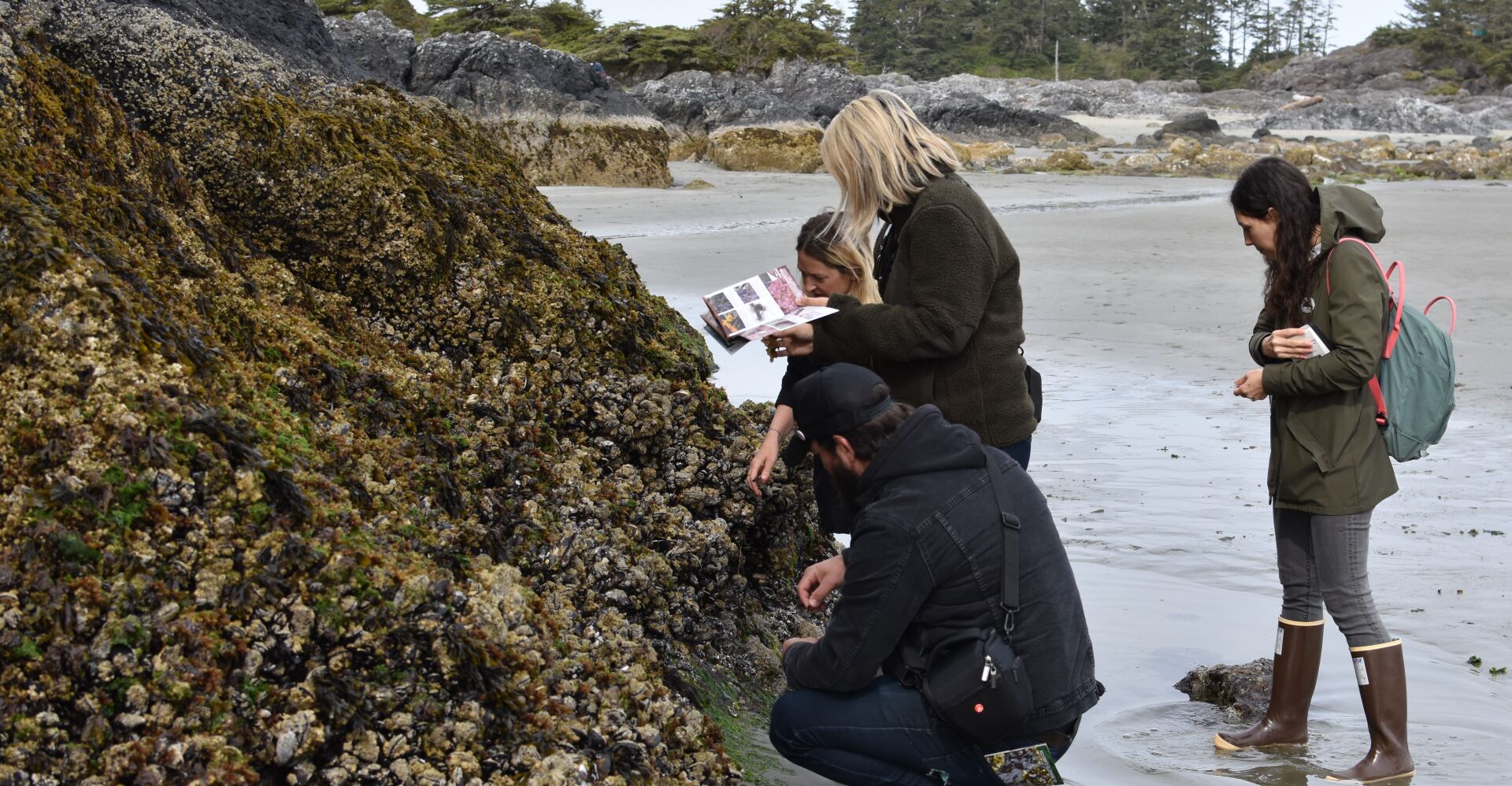 Image of Seaweed Fest participants exploring tide pools. Photo Credit: West Coast NEST
Participants of Seaweed Fest were treated to an expert-guided beach walk with Professor Bridgette Clarkston of the University of British Columbia (UBC) and a Raincoast Education Society (RES) naturalist. Learners walked along the Tofino shoreline in gum boots as they explored the tide pools and available seaweeds along the shore. Dr. Bridgette Clarkston and the RES educator discussed the varieties of Pacific seaweeds available on the west coast and the traditional and contemporary uses of seaweeds by various cultures.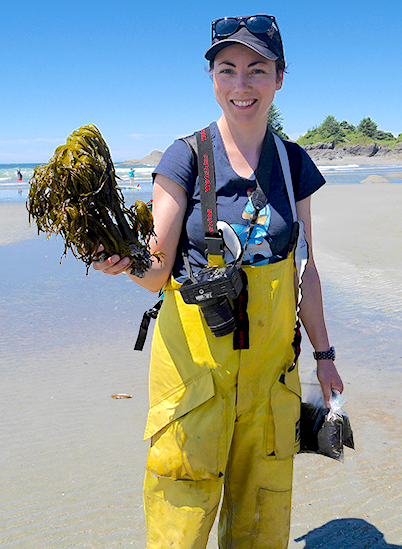 Image of Dr. Bridgette Clarkston holding postelsia. Photo Credit: Jill Marks
Learners also were provided tips and tricks for foraging and sustainable harvesting by Chef Paul Moran, ensuring that their collection of local seaweeds and kelps does not infringe on the wildlife and other residents who enjoy the seaweeds as much as we do.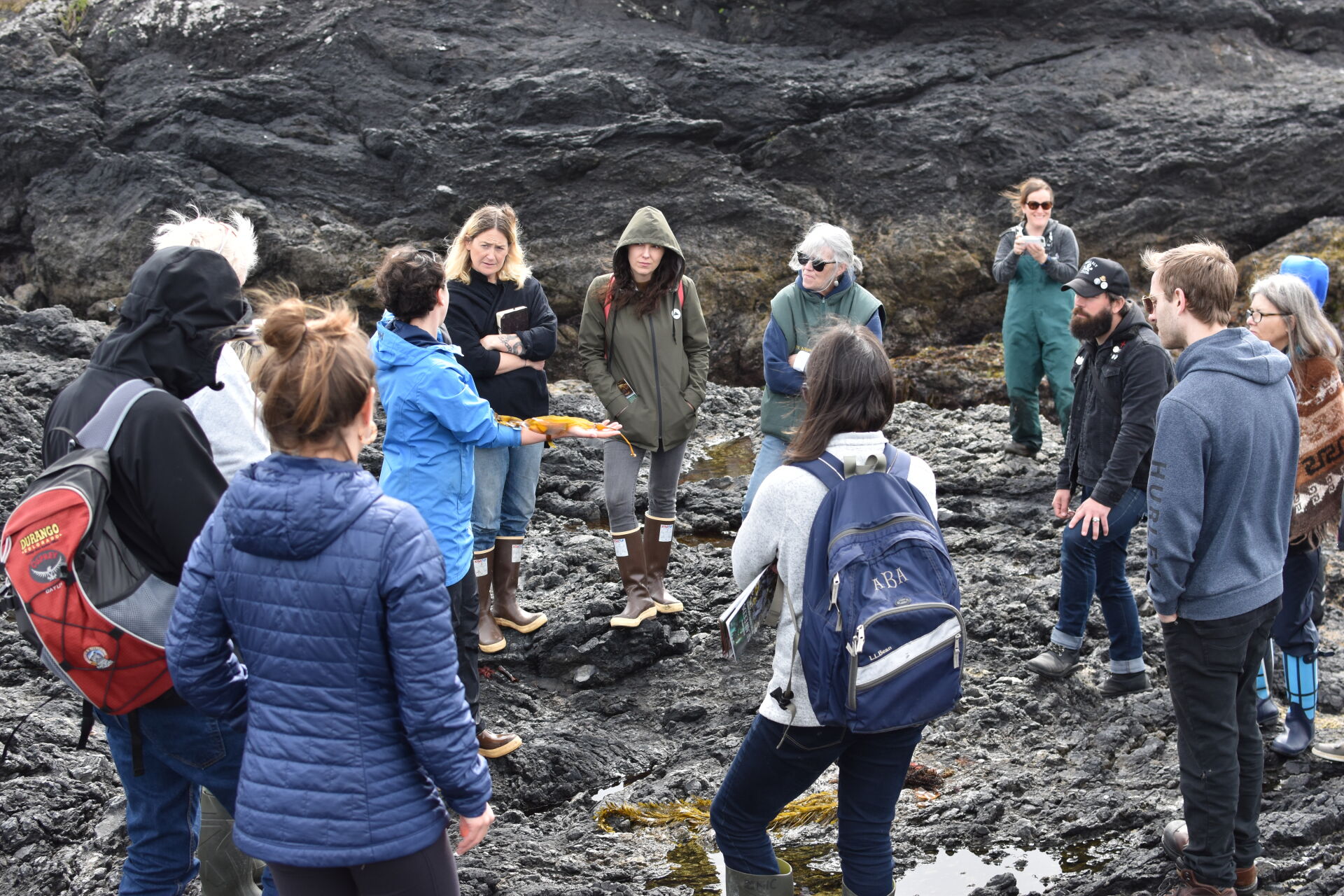 Image of Seaweed Fest participants exploring seaweeds on rocks. Photo Credit: West Coast NEST
Following the guided beach walk, participants enjoyed a seaweed-themed picnic lunch on the beach provided by Picnic Charcuterie. Learners then joined the Tofino Community Food Initiative to learn how to prepare and pickle kelp, a key component to enjoying many types of Pacific seaweeds!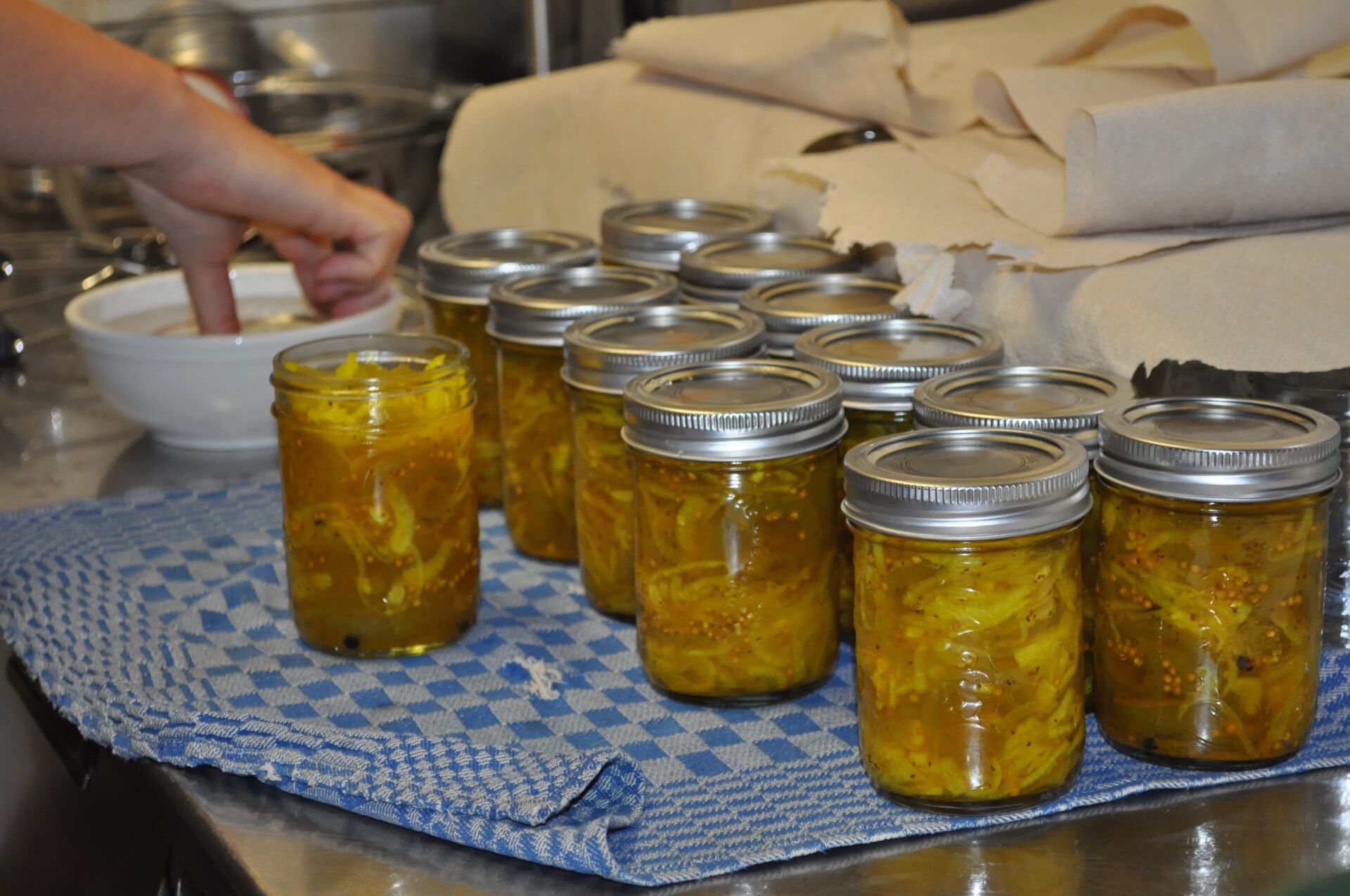 Image of kelp pickling with Tofino Community Food Initiative. Photo Credit: Tofino Community Food Initiative
Lastly, participants were treated to a vegetarian, seaweed feast cooked by Chef Paul Moran at 1909 Kitchen at the Tofino Resort and Marina. The feast included a smoked alder and kelp dashi broth with kelp noodles, a seaweed salad, crispy pizza topped with bull kelp and feta, and a delicious dessert of candied feather boa kelp and sea buckthorn. The feast truly showcased the variety of ways that seaweed can be prepared and cooked, highlighting that seaweeds can be in any meal.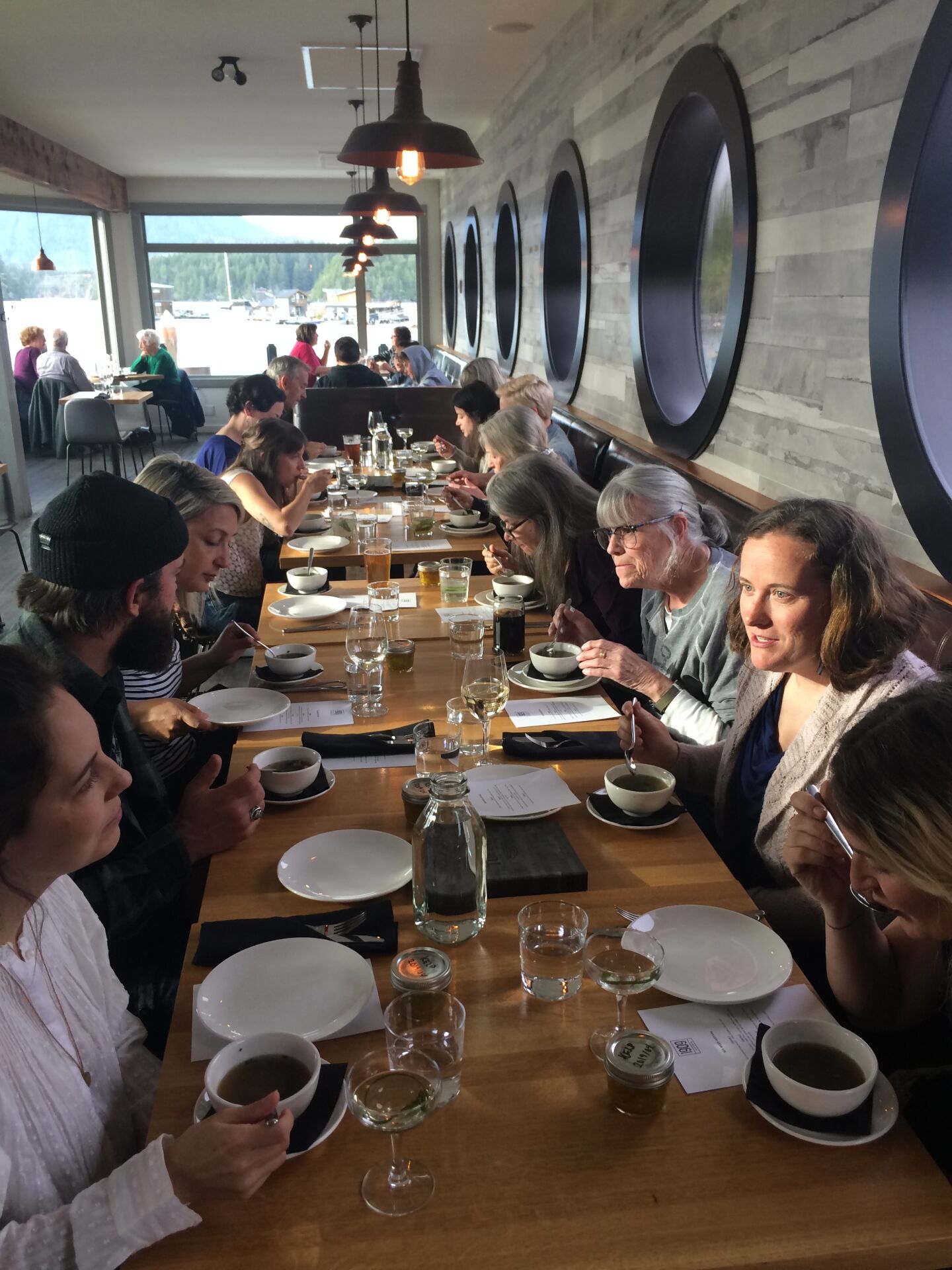 Image of Seaweed Fest participants at 1909 Kitchen enjoying the Seaweed Dinner feast. Photo Credit: West Coast NEST
The 2019 Seaweed Fest was a great opportunity for residents and visitors to learn together about Pacific seaweeds, and how to identify, sustainably forage, prepare, cook, preserve, and eat these delicious and healthy sea greens! Many participants commented on how informative the workshops were, with one learner expressing that the "guided walk and the dinner exceeded [their] expectations." The 2019 Seaweed Fest was so popular that it was even featured in the Victoria-based Yam Magazine and The Globe and Mail.
Following the success and positive feedback from the 2019 Seaweed Fest, the West Coast NEST planned the 2020 Seaweed Fest to be a three-day event with the hope of providing more opportunities for local seaweed experts to share their knowledge and include other individuals using seaweed in their art, food, beverages, health care products, and more. The 2020 Seaweed Fest was cancelled and we have postponed the 2021 Seaweed Fest possibly until the fall. We hope the 2021 Seaweed Fest will allow more individuals to participate over the course of the three-days and expand beyond a food-focused fest to include all of the amazing properties and uses of Pacific seaweeds on the west coast of Vancouver Island! Stay tuned for more details about the 2021 Seaweed Fest!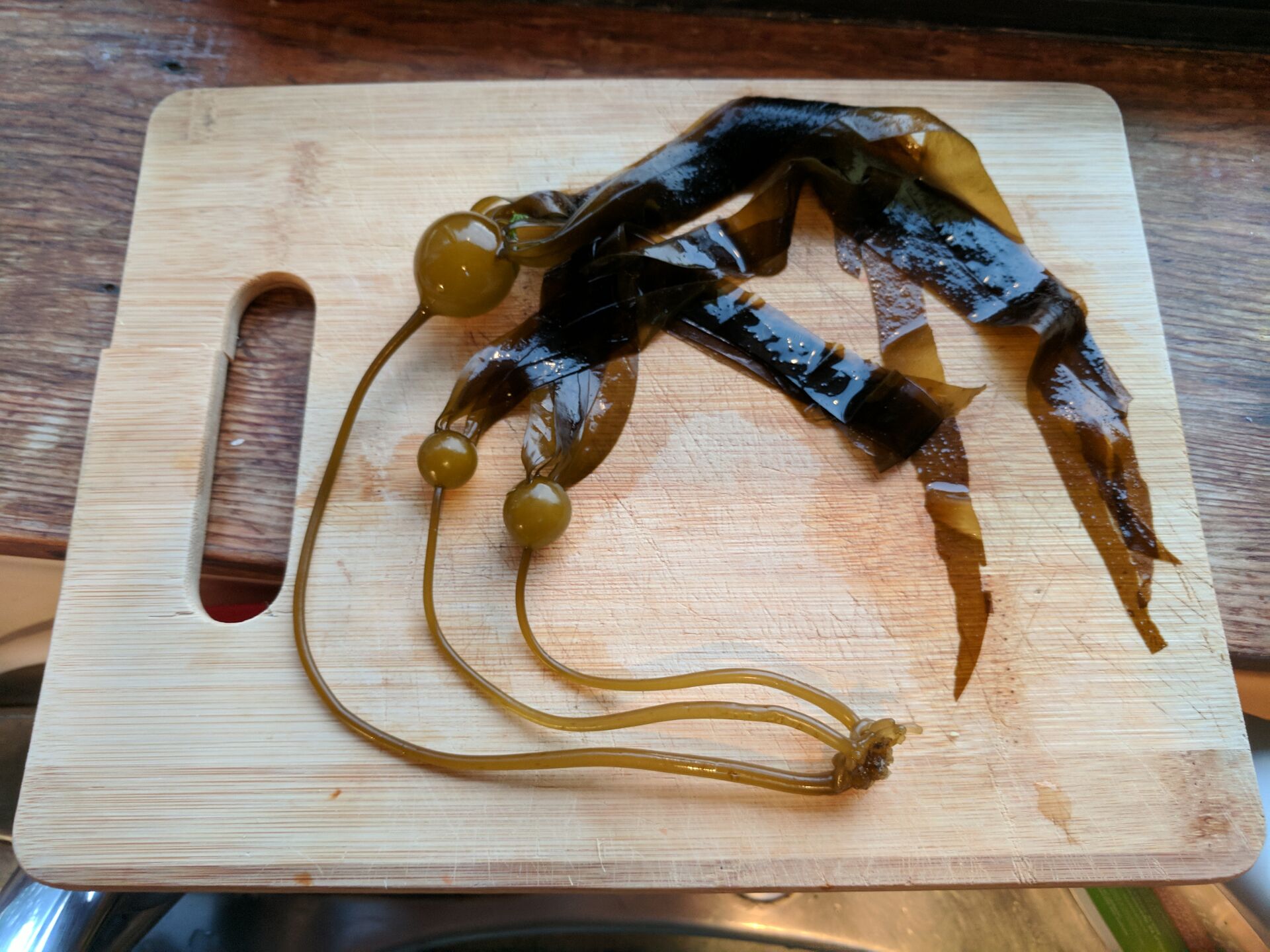 Photo Credit: Algebra Young
The 2019 Seaweed Fest was hosted in partnership with Raincoast Education Society, Tofino Community Food Initiative, and 1909 Kitchen. The festival was made possible with the support of the District of Tofino, Tofino Resort + Marina, the Clayoquot Biosphere Trust, and Tourism Tofino.