Entry Level Film Training Course - February/March 2021
Learn from experienced film industry instructors the skills required to work in one of the fastest growing sectors in BC, the Motion Picture Industry!
Outline:
BC's Motion Picture Industry is one of the fastest-growing sectors in BC. Productions are filming throughout the Province. When productions film on Vancouver Island they always look to hire local production assistants. This training course will provide all the training one needs to confidently start work on any set.
North Island College and Vancouver Island North Film Commission have collaborated to develop an online and tuition-free Entry Level Production Assistant Training Courses. The program will provide learners valuable training and skills to prepare them for the BC film industry. Students will be provided support from experienced film industry instructors who will provide insight into the motion picture industry and how to register on local Vancouver Island crew databases which is an important topic covered throughout the program. The Directors Guild of BC (DGC BG), the Union that Location Production Assistants would register with requires 30 days of work on set before applying for their Logbook, the first step in becoming a Union member. The Union has waived the 30 days for anyone who can show a completion certificate from this course, allowing them to begin the application process without the 30 days of set production time.
The courses are based on a common-sense approach to employment. Learners can work at their own pace within a recommended weekly schedule. Each week there will be a minimum of 1-two hour virtual class-time as well as online chats and reviews that students can engage in weekly to deepen their learning. Hours per week depend on each learner yet individuals should consider allocating 3 hours a day if possible.
The program includes:
Motion Picture Industry Orientation
Motion Picture Safety Awareness
Traffic Control
WHMIS
Food Safe Level One
Propane Safety Awareness
Production Assistant Essentials
Pandemic safety Protocols
Respectful Workplace
Students will be provided with a full schedule that will outline the start and end dates of each specific course. There is support provided across each course. Each certificate will be scheduled and as noted there will be a start and end date for each course within the program.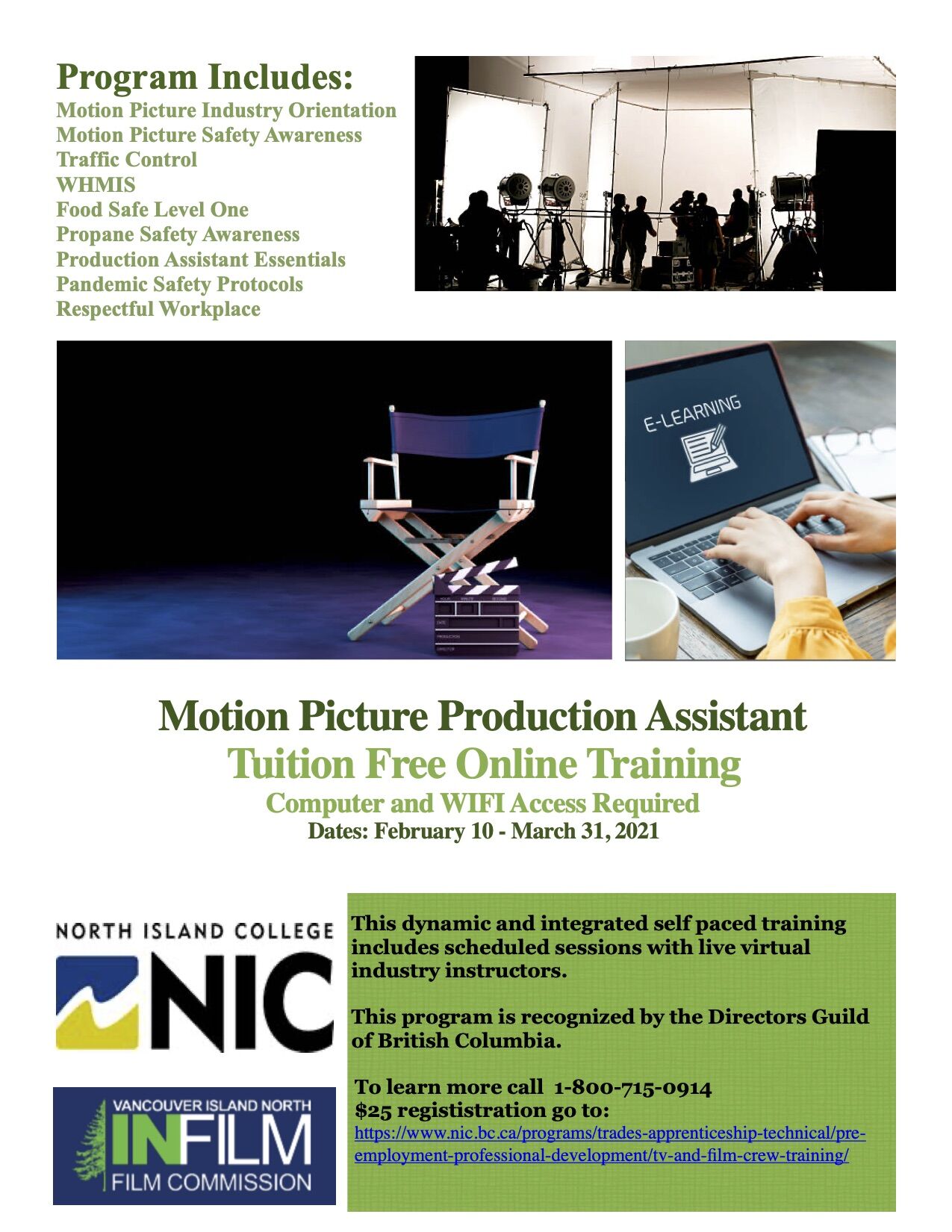 Prerequisites:
The course is open to anyone over the age of 15, a high-school diploma is not a required to register.
Course fee:
$25 Registration Fee, Tuition Free