naaʔuu - Tla-o-qui-aht First Nation's cultural experience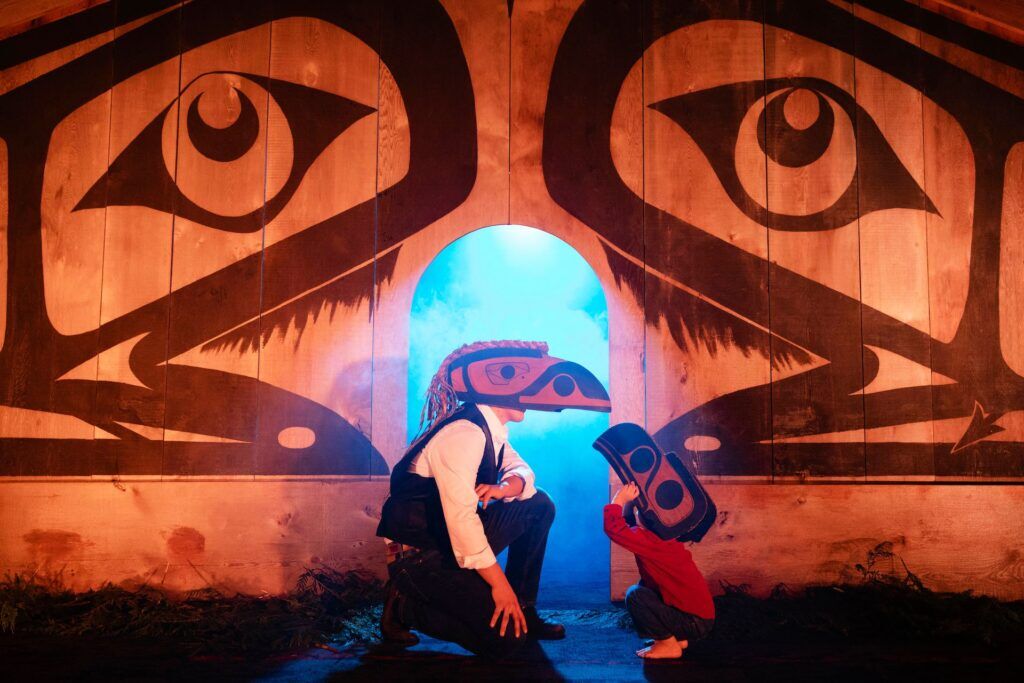 In March 2023, visitors can experience Tla-o-qui-aht First Nation food, art, song and dance through this new limited event series entitled naaʔuu.
naaʔuu is a cultural experience presented by Tla-o-qui-aht First Nation, supporting Tla-o-qui-aht Tribal Parks work in restoring and furthering the nation's lands, language, and culture.
Held at the Tla-o-qui-aht-owned Best Western Plus Tin Wis Resort in Tofino, ticket-holders are invited to gather inside the resort's conference centre which has been transformed to look and feel like a traditional longhouse.
Throughout this three-hour event, experience cultural presentations depicting the Nation's history through song, dance, and traditional carvings coming to life over a delicious dinner.
Witness specially carved masks and signature regalia as interpreters share transformative teachings at naaʔuu.
The event is produced by Hjalmer Wenstob, a renowned Tla-o-qui-aht First Nation artist and owner of the Cedar House Gallery, alongside a team of community members.
Tickets are limited and non-refundable, with the event being appropriate for ages 12 and up.
Don't wait! Get your tickets through Eventbrite for March 15, 16 , 18, 22, 23, 24, 25, 30 & 31 2023 - each night 6 to 9pm.
The event will also include an art show where local artists and makers will have their works for sale.
Dry ice fog machines are used during the experience.
Please note: event management has the rights to the last-minute rescheduling of your tickets, or you are entitled to a full refund.
This Tla-o-qui-aht Tribal Parks experience series is a 2023 test pilot supported by the Pacific Economic Development Canada.
Photo credit: naaʔuu Tla-o-qui-aht Tribal Parks