Wandering Words: Outdoor Nuu-chah-nulth Language Exploration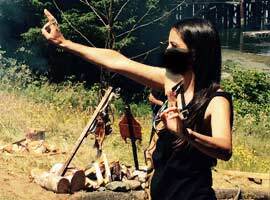 Join Raincoast Education Society to learn about the local language and world view. Explore writing systems and sounds and enjoy a glimpse into the significance of the official language of this place, the ƛaʔuukʷiʔatḥ / Tla-o-qui-aht language of Nuu-chah-nulth.
Gisele Martin will lead a mobile Nuu-chah-nulth language practice session.
The third meetup will be hosted via Zoom.
This event is the third and final in a series of three this year & lead by Gisele. Gisele Maria Martin is a citizen of the Tla-o-qui-aht First Nation on the west coast of Vancouver Island. She is a Tla-o-qui-aht Tribal Parks guardian, Nuu-chah-nulth language & culture activist and artist.
This a free event.
To learn more about the event and register, please visit: https://raincoasteducation.org/calendar-event/wandering-words-outdoor-nuu-chah-nulth-language-exploration/