Birds and Botanicals Artist Workshop- Tofino Shorebird Fest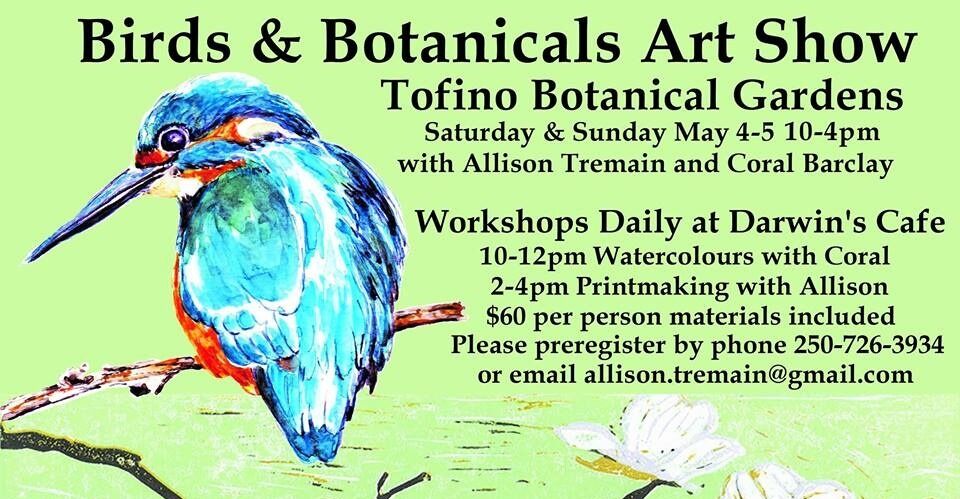 Join local artist Allison Tremain and Cowichan Bay artist Coral Barclay at the Tofino Botanical Gardens celebrating the return of spring with an art show focusing on botanicals and regional and migratory birds.
The art show is a free event. However, if you'd like to try your hand at making your own art, check out the workshops below!
10:00 am – 12:00 pm WATERCOLOURS
Coral will guide you through watercolour techniques for painting birds and flowers. Bring your own reference photo or samples will be provided. A great opportunity to personally capture a shorebird during your visit.
2:00 pm – 4:00 pm NATURE PRINTMAKING
Allison will guide you through an ancient technique of printing with real plants from the rainforest. You will bring a visual and personal representation of the west coast home creating your very own authentic botanical print. Plants will be provided, please do not gather plants from the national or regional parks.
Beginners welcome, open to all ages, 12 and under must be accompanied by an adult
$60 per person materials included
Please preregister for these workshops by calling 250-726-3934 or emailing allison.tremain@gmail.com